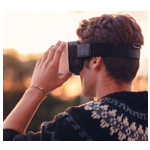 What do low-latency apps and the telco central office have in common? They both figure prominently in an emerging AT&T edge computing vision.
Data-intensive low-latency apps such as self-driving cars, augmented/ virtual reality (AR/VR) and robotic manufacturing will drive that vision. And AT&T sees its extensive network infrastructure — including legacy central offices as well as more modern macro towers and small cells – as important assets supporting the vision.
As AT&T explained in a press release today, low-latency 5G networks have the potential to enable new wireless applications such as smartphone-based AR/VR. But those applications require more computing power than a typical wireless device can support.
The company notes, for example, that "overlaying digital images and graphics on top of the real world in a convincing way" requires more processing power and battery life than a smartphone can deliver. The solution, according to AT&T, will be edge computing, which will move data crunching to cloud resources located at the network edge.
"It's like having a wireless supercomputer follow you wherever you go," the company said.
AT&T Edge Computing
For this vision to work, however, edge computing will need to be deployed throughout the network, minimizing the distance data must travel and thereby minimizing latency.
AT&T believes it has an advantage on that front. As AT&T CTO Andre Fuetsch noted in today's release, "few companies have the sheer number of physical locations that AT&T has that are needed to solve the latency dilemma."
Instead of relying on a handful of data centers for cloud functionality, AT&T envisions implementing edge computing at "tens of thousands" of edge computing locations. Those locations could include central offices, macro towers and small cells "usually never farther than a few miles from our customers," the company said.
These edge computing facilities will be outfitted with high-end graphics processing chips and other general purpose computers, AT&T said. Systems will be managed using software defined networking (SDN), which has been a key technology initiative for the company for several years.
The idea that telco central offices might have new value comes at a time when carriers increasingly are consolidating central offices – an option made possible, ironically, by SDN and network functions virtualization. Perhaps the central office (CO) consolidation and edge computing initiatives could be complementary, however, as both could require deploying SDN in the CO – and clearing out traditional CO equipment through consolidation could make room for the new edge computing equipment to move in.
Use Cases
The apps that could be enabled through AT&T edge computing include:
While self-driving car functionality such as braking, turning and acceleration would likely always be managed by the computer systems in the cars, secondary systems such as updating and accessing navigational maps could move to the cloud
Someday AT&T sees edge computing being embedded in traffic lights and other "everyday" infrastructure – an approach that could give self-driving cars the ability to talk to their surroundings or alert fire and medical services almost instantly in the event of a problem
Doctors could view, share and adjust complex medical images without investing in expensive imaging systems
Traditional wired connections to robotic assemblers used in robotic manufacturing could be eliminated
AT&T also hinted at edge computing-enabled public safety applications that will be enabled by the FirstNet mobile broadband public safety network that the company is building nationwide
Of course AT&T isn't the first company to talk about edge computing. Several standards bodies, including the Alliance for Telecom Industry Solutions and Open-IX also are pursuing this area, as are vendors and other carriers. But AT&T's clout should help provide additional momentum to those ongoing initiatives.