Broadband momentum continues around the world, according to a new report from the Broadband Forum, which pegs the total global broadband population at over 640 million at the end of 2012. FTTX and hybrid VDSL/FTTN deployments are the fastest growing at 27.5% annual growth last year, according to the research compiled by Point Topic. Broadband subscriptions as a whole grew 8.7%, according to their data.
"These are promising figures as they highlight the ongoing strength of the broadband market," commented Robin Mersh, CEO of the Broadband Forum in a press release. "We are increasingly witnessing a shift in technology, particularly to fiber, as consumer habits evolve and the demand for higher bandwidths increases."
DSL Continues Prominence, But FTTx Has Momentum
DSL continues to be the broadband workhorse across the globe, garnering 57% of all global broadband connections, more than triple that of FTTN/VDSL (18%) and almost triple that of cable modem (19%). Pure FTTH only makes up about 3% of total global broadband connections, just about equaling fixed wireless/satellite connections (3.08%). Both FTTN/VDSL and pure FTTH were the fastest growing access technologies, at 27.5% and 20.3% respectively. DSL only grew at 3.6%, while cable modem grew at 7.2%.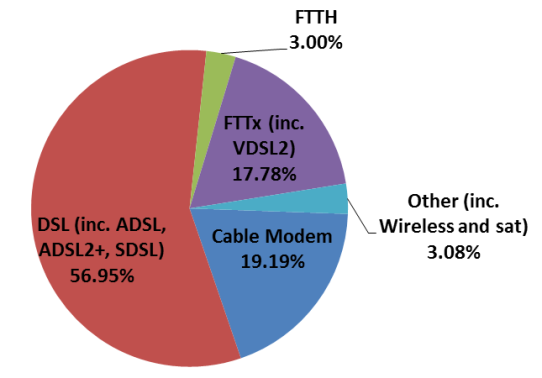 Point Topic CEO Oliver Johnson says the FTTx momentum, combined with emerging DSL technologies of vectoring and bonding, should help broadband service providers to "…continue to maximize the lifetime of their existing assets." AT&T's U-verse platform probably represents the best example of this, where AT&T uses a hybrid approach of fiber-to-the-node, combined with VDSL to the premise.
China leads all nations with over 178 million broadband subscribers. The U.S. comes in at a distant second with over 95 million. India rounds out the top ten with 15 million broadband subscribers. From the top ten nations, only Japan saw negative broadband subscriber growth (0.16%) in 2012
Point Topic reveals that IPTV continues to be a driver for higher broadband, with over 75 million IPTV subscribers globally. Roughly 12% of all broadband subscribers also subscribe to IPTV, representing a growth rate of just under 5% last year. The top three IPTV markets continue to be China (19.9 million), France (13.6 million), and the U.S. (10.3 million), in that order.