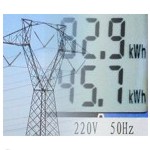 Smart metering and smart grid members of the Zigbee Alliance are joining together to develop a communication profile that will provide utilities "true plug-and-play interoperability between the members' wireless smart grid Neighborhood Area Network (NAN) products and solutions."
NANs are designed to provide utilities last-mile connectivity for "smart meters and distribution automation devices to Wide Area Network (WAN) gateways, such as RF collectors or data concentrators and field devices," the Alliance explains in a press release.
Having completed the definition and documentation of market requirements for the NAN communications profile, Zigbee Alliance during the past year has held a series of "'proof-of-concept' events to test the interoperability of the PHY/MAC functions that will be included in the NAN standard." All participants successfully demonstrated PHY/MAC layers interoperability for their NAN products and several demonstrated interoperability for basic IP functions, the alliance said. Work on the new standard is expected to be completed by the end of 2014.
The Zigbee Alliance intends to establish a test and certification program made up of independent test centers in order to certify the interoperability of smart grid products and solutions from different manufacturers. Providing a single point of reference for utilities, Zigbee Alliance will maintain a register of certified smart meter and smart grid products.
Though regulators and utilities have issued open global requirements for standards-based interoperable NANs, existing IEEE and ITU standards leave too many options open to assure interoperability, the alliance says. Alliance members are stepping in "to fill the gap by selecting the most appropriate options between standards and defining a communications profile with certifiable interoperability."
They're defining a complete wireless communications protocol for Layers 1 through 4 of the ISO OSI communications stack. Layers 1 and 2 are to be based on the IEEE 802.15.4g amendment to 802.15.4, which was introduced specifically for interoperable NANs.
Layers 3 and 4 of the NAN communications profile is to be based on "IETF standards including the IPv6 network layer and associated networking schemes, appropriate routing and transport protocols (e.g. RPL, UDP and TCP) and relevant security mechanisms," Zigbee Alliance's press release continues.
"The ZigBee Alliance has a long history of developing interoperable wireless communication standards based on open international IEEE 802.15.4 and IETF standards, which have been adopted worldwide in numerous applications," Zigbee Alliance president and CEO Tobin J.M. Richardson was quoted. "We welcome this new initiative which was started by our smart grid member companies and look forward to extending our activities by helping utilities to achieve interoperability in their NANs."