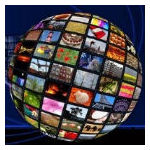 Spurred on by the need to better track and understand the flood of customer data flowing in through connected devices and digital media channels, media market research companies are racing to develop better methods and tools. Aiming "to total up audiences across devices and burgeoning viewing platforms," Nielsen on March 19 launched "Total It Up: Together, Let's Count the Total Audience" initiative.
Traditional TV reached an average 285 million viewers each and every month in 4Q 2014. Illustrative of the impact of new digital technologies on viewing habits and preferences, over 181 million of these content consumers time-shifted their viewing, Nielsen highlights in a press release.
Smartphone Video Usage
Turning to mobile and computer platforms, Nielsen says that 122 million viewers watched video via smartphones, 146 million watched video via the Internet, and another 164 million used an app/web on a smartphone on a monthly basis. Moreover, another 258 million listeners on average tuned into radio for content.
The average American adult spent almost one week (149 hours 14 minutes) watching TV the traditional way – on a regular TV set – each month in 4Q. U.S. adults on average spent "well over 15 hours each month watching time-shifted content, close to 30 hours using the Internet on a computer, and over 43 hours using any app/web on a smartphone!"
American adults are also spending "a lot of time on social media," Nielsen continues: 133 million connect via computer, 142 million connect to social media via apps or smartphones, and 124 million access social media via the Web on smartphones.