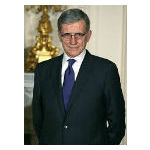 FCC Chairman Tom Wheeler said yesterday that he is an "unabashed supporter of competition," vowing that competition will be one of two key guiding principles for the commission, along with what he called the "network compact."
"Competition is our fundamental national economic policy," said Wheeler in an address at Ohio State University.
Competition, he said, is "a power unto itself that must be encouraged," also noting that it is subject to what he called the "seesaw rule."
"When competition is high, regulation can be low," he said.
Wheeler encouraged industry competitors to devise their own "voluntary codes of conduct" but added that the FCC would "monitor" those efforts and would "not hesitate to act" where warranted. He noted, for example, that he already has asked wireless carriers to hash out a cellphone unlocking agreement that would allow consumers to take cellphones purchased from one carrier to a different carrier. Wheeler said he was pleased with the industry's responsiveness but vowed to ensure that the FCC will take action on cellphone unlocking if an industry solution is not reached.
He also noted that a key goal of spectrum policy is to ensure that multiple carriers can have access to spectrum and praised the FCC's previous decision to prevent the AT&T and T-Mobile merger. He argued that the decision was pro-competitive, as both T-Mobile and Sprint were subsequently able to attract new investors who saw the decision as a "signal that the FCC is committed to a competitive mobile marketplace."
Wheeler's speech touched on many of the same themes he also explores in a 27-page book recently made available for free on the FCC website. The book takes a bit more provocative stance on the topic of competition, however.
For example, in the book Wheeler argues that "economic forces . . . naturally connive to limit competition" because "capital markets and investors worry that higher profits do not always come from the price discipline of rigorous competition."
He also notes in the book that "in a competitive market the speed, price, capacity, quality and choice of network services should show constant improvement."
The network compact
Wheeler's network compact has three elements, which he outlined in yesterday's address. These include network access, interconnection and public safety/ national security.
Network access should enable end users to access whatever lawful content they want, he said, pointing to the FCC's previous Open Internet order. He also noted that the commission is modernizing Universal Service programs to "ensure broadband access to all Americans, including American schools."
On the topic of interconnection, Wheeler made a distinction between traditional "end-to-end" telecom network connections and the Internet. The Internet, he said, is a "collection" of multiple open networks.
"Regulating the Internet is a non-starter," he said, but added that "assuring the Internet exists as a collection of open, interconnected facilities is a highly appropriate subject" for regulators.