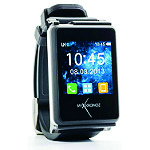 Wearable device shipments rose and reached 22.5 million units in 2Q'16 despite a drop in shipments for one of the market's largest vendors, according to the latest market data from IDC.
Overall, 2Q'16 wearable device shipments came in 26.1% higher than they did a year ago, according to the latest IDC Worldwide Quarterly Wearable Device Tracker. Vendors, and buyers, continue to focus on fitness, which IDC deems the market's ¨low hanging fruit.¨
There are signs of growing consumer interest in using wearables for other purposes, however. That includes communications and mobile payments. In addition, enterprise-scale businesses are showing greater interest in wearables given the prospect of boosting productivity.
Wearable Device Shipments
Fitbit topped IDC's quarterly wearable device sales rankings in 2Q, shipping 5.7 million units, 28.7% more than in 2Q'15, for a 25.4% market share. Xiaomi ranked second, shipping 3.1 million, up 2.5% YoY, for a 14% share of the market.
Apple followed in third by shipping a total of 1.6 million wearable devices. That was down 56.7% YoY. Apple wound up 2Q'16 with a 7% market share.
Garmin followed at number four with a 6.9% market share, and Lifesense ranked fifth at 4.65.
Lifesense broke into IDC's Top 5 in 2Q based on shipments of its low-cost Mambo fitness tracker to China. Mambo connects with WeChat, a hugely popular messaging service via which device users can share data without having to log on to a separate application, IDC notes.
Collectively, other vendors shipped 9.5 million wearable devices in 2Q'16, up 26.1% YoY, to account for 42.1% of the market in 2Q.
2Q sales for two broad-based wearable device categories diverged sharply, IDC points out. Sales of basic wearables – those that don't support third-party applications – rose 48.8% year over year (YoY), while sales of smart wearables that do declined 27.7%.
"Basic wearables, which include most fitness trackers, have benefited from a combination of factors: a clear value proposition for end-users, an abundant selection of devices from multiple vendors, and affordable price points," commented Ramon Llamas, IDC research manager, Wearables.
"Consequently, basic wearables accounted for 82.8% of all wearable devices shipped during the quarter, and more vendors continue to enter this space. The danger, however, is that most devices end up being copycats of others, making it increasingly difficult to differentiate themselves in a crowded market.
"There is plenty of curiosity about what smart wearables – particularly smartwatches – can do, but they have yet to convince users that they are a must-have item.
¨The good news is that smart wearables are still in their initial stages and vendors are slowly making strides to improve them. But this also means that it will be a slow transition from basic wearables to smart wearables."
Image courtesy of flickr user Chris F.