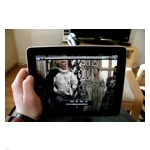 The U.S. Senate Committee on Commerce, Science, and Transportation lined up some heavy hitters, including media mogul Barry Diller, for a hearing today focusing on "The Emergence of Online Video: Is It the Future?" But perhaps because Senate questioners had such diverse agendas, the event lacked a central theme and raised more questions than it answered.
Several senators from rural areas talked about the lack of broadband in some of those areas. But although Diller and others touted the need to make broadband available to all Americans, there was little discussion of how to achieve that.
I thought readers would be most interested in a post focusing on the most interesting information and ideas that emerged from the hearing, which also featured senior executives from Microsoft, Amazon and Neilsen.
1.    Diller Defends Aereo.
Diller has been in the spotlight since his current firm IAC made a big investment in Aereo—a company that recently launched a controversial service aimed at enabling consumers to get better over-the-air TV channel reception and DVR recording capability for those channels. Diller reminded the audience that TV broadcasters got free spectrum licenses in exchange for meeting the public interest, adding "Aereo is a technology that simply allows consumers what was quid pro quo for receiving a broadcast license… It's not a network; it's a technology platform for you to receive signals across the Internet and record them."
2.    Women More Likely to Watch Video Online.
Nielsen Vice Chairman Susan Whiting shared insight from some of the company's recent research on OTT video viewing, some of which Telecompetitor has reported on previously—the rise in people watching TV and using wireless device simultaneously, for example. But there were a couple of findings I don't remember seeing or hearing before.  For example, Nielsen research says women are 6% more likely than men to watch video online.
3.    Microsoft Touts Interactive Content.
The software giant is working with content providers, including the producers of Sesame Street, to create special versions of their content with an interactive element. The functionality is dependent on Microsoft's Kinect product, which attaches to the company's Xbox game player and can detect voice and motion, enabling young children, for example, to pretend to throw a ball at the TV screen and have it appear as part of the on-screen Sesame Street content.  I found a video from January on line that says this capability will be available "later this year."
4.    Big Changes Coming?
Microsoft apparently is quite bullish on developments such as these. "There will be more change in the next 18 months than there has been in the past five years," said Microsoft Corporate Vice President Blair Westlake.
5.    Can Local News Save Broadcast?
Some people are concerned about the rise of OTT video and other new media because they see it as a killer of traditional news reporting. But Diller argued that local news is a TV broadcaster's strongest differentiator. Looking at local stations, he said "the strongest are the ones with the most news information and community programming."
Image courtesy of flickr user Ben Dodson.