SD-WAN service is a hot area for enterprise customers. And as CenturyLink's recent SD-WAN service launch reveals, it could be a substantial telco growth opportunity. Research firm IDC forecasts the SD-WAN service market to reach approximately $6 billion annually by 2020. Nearly 70% of organizations expect to use SD-WAN in the next 18 months, IDC said.
Software defined WAN technology aims to minimize enterprise customers' connectivity costs by reducing reliance on costly MPLS connections.Currently it's quite common for enterprises to use MPLS for Internet connectivity, including connectivity to cloud services, explained Mark Weiner, chief marketing office for Versa Networks, which announced today that it is supplying underlying technology for CenturyLink SD-WAN service. In a typical configuration today, traffic from multiple enterprise locations is sent over MPLS to a data center. At the data center firewall and other capabilities are applied before traffic is sent to the Internet.
This approach is becoming increasingly impractical as enterprise video traffic increases and as enterprises move to cloud services. In many cases, employees interact with cloud services such as Salesforce.com  over an Internet connection. A typical SD-WAN deployment offers an alternative approach that brings an Internet connection to every location and uses premises-based software to determine whether traffic goes over the MPLS connection or the Internet connection. In a different approach, some enterprises use the Internet connection for backup, as a network diagram from CenturyLink illustrates.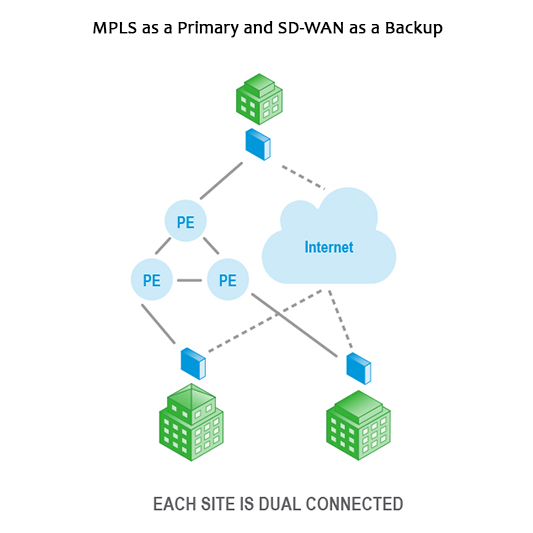 A key element of Versa's SD-WAN offering is that it is based on network functions virtualization (NFV), which enables it to be implemented on general purpose hardware rather than a proprietary box, Weiner noted. CenturyLink claims to be the first telecom service provider to offer an SD-WAN service based on NFV. But Weiner said Versa has seen interest from other North American carriers as well.
Weiner likened the Versa SD-WAN offering to a Lego set. Functionality can be added to the commodity hardware as needed to provide address translation, firewall and/or other functionality.
CenturyLink SD-WAN Service
CenturyLink SD-WAN service bundles connectivity, equipment, software licensing, configuration, performance tuning and monitoring with a management and analytics portal. Customers can use the portal to manage their own policies or have CenturyLink handle that responsibility. CenturyLink said it will manage connectivity from a wide range of providers.
In announcing its SD-WAN service, CenturyLink also announced a free-of-charge 90-day proof-of-concept offer aimed at enabling enterprises to try out SD-WAN technology. CenturyLink will provide customer-premises equipment, access to a management portal and customer support for up to five sites.
Cannibalizing MPLS?
Perhaps it might seem surprising to see service providers embracing a technology that has the potential to cannibalize their high-price MPLS service and to shift a considerable percentage of traffic that previously traveled over MPLS to lower-cost Internet connections. Depending on an enterprise's needs, some may be able to forego MPLS connectivity entirely by using SD-WAN technology.
Weiner noted, though, that despite reduced reliance on MPLS, the technology is forecast to grow slightly or remain flat for the next five years – apparently because overall traffic volumes continue to grow.