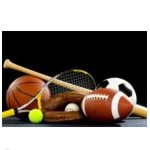 Amateur or professional, coverage of live sports continues to be a staple for television broadcasters and a defining part of the television experience, TDG (The Diffusion Group) points out with the release of new market research.
Adult broadband users spend no less than 20 percent of their weekly TV time watching live sports, according to "Game On! The Future of Sports Video Viewing, 2015-2025."
Seventy-two percent of adult broadband users, moreover, "consider themselves avid fans of at least one sports genre," according to a TDG blog post. One-fifth (19 percent) are avid fans of no less than six or more sports. That "swells to one-third (33 percent)" among those 25-34.
OTT TV Sports Viewing
According to TDG, weekly per-capita viewing of OTT TV sports will soar from just under 25 minutes in 2015 to more than four hours in 2025 as broadband distribution expands to play a more important role in feeding demand.
Sports fans spend significant amounts of time and money satisfying their sports-watching needs, TDG highlights. They are, the market research company points out, "a group of passionate and knowledgeable fans that is the mainstay of ticket sales and multisport networks like ESPN."
As Joel Espelien, TDG Senior Advisor and new report author elaborates: "Most TV viewers enjoy live sports. There are, however, certain segments that do so more than others. This reality was not lost on Dish, who positioned ESPN front and center in its new 'skinny' Sling TV broadband service."
The large majority of adult broadband users falls somewhere in the middle of the group of hard-core sports fans, however. Fifty-two percent of adult broadband users are avid fans of 1-5 different sports.
This group includes "the modern mainstream sports fan," according to TDG, "whom, because of time, tradition, the popularity of hometown teams, or other factors are thus more selective in the sports they choose to follow."
According to Espelien: "It is safe to say that the NFL and Olympics do well among this group, as do other traditionally mainstream sports like MLB and the NBA. This group also includes those who are fans of the same sport at both the college and professional level (e.g., college football and the NFL count as two sports)."