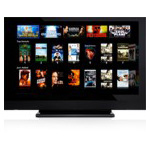 Fifty-six percent of all U.S. broadband households have at least one TV connected to the Internet – be it a direct connection to a smart TV or indirectly via ancillary devices, such as game consoles and Blu-ray players, according to a new report from The Diffusion Group (TDG).
Two or more Net-connected TVs are present in nearly ¼ of U.S. broadband households, "suggesting that connected TVs are moving beyond the living room and into master and secondary bedrooms," according to TDG's "The In-Home CE and Home Network Ecosystem – 2013" report.
"Whether your goal is delivering OTT services to the TV, or expanding the level of control pay-TV subscribers enjoy, the reality that six in ten broadband households use a connected TV is encouraging news," TDG founding partner Michael Greeson was quoted in a press release.
Based on its "Benchmarking the Connected Home" research, an online survey of 2,000 adult broadband users ages 18-75, TDG found:
HD penetration increased to 82%
Smart TV penetration doubled in the last year from 12% to 25%
69% of Smart TVs are now connected to the Internet
Close to a fourth of net-connected game console time is spent viewing video, a rate highest among Sony PS3 users (29%)