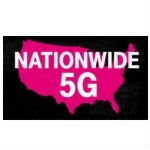 T-Mobile has completed the buildout of its virtualized packet core across its U.S. footprint, the company announced today. The T-Mobile virtualized packet core is based on Cisco's distributed software defined network (SDN) architecture.
T-Mobile's partnership with Cisco will continue over the next five years, a timeframe in which T-Mobile expects to complete much of the buildout of its 5G Packet Core and Policy Suite, spanning hardware, software and services.
"This was a significant undertaking for us, shifting from a centralized to a distributed core architecture across our footprint, and we couldn't have achieved that without virtualization," said Neville Ray, T-Mobile chief technology officer, T-Mobile, in a prepared statement. 
"The size and scope of this project with T-Mobile marks a milestone as the largest virtual packet core operating today," said Jonathan Davidson, Cisco senior vice president, general manager, service provider business, in a prepared statement. "With this new virtualized architecture with massive scale, T-Mobile can launch new services with automated deployments, spending minutes to deploy what used to take months."
The T-Mobile virtualized packet core news comes on the heels of an announcement earlier this week that T-Mobile had activated 600 MHz (Band 71) Extended Range LTE in more than 1,250 municipalities in 36 states and the island of Puerto Rico. T-Mobile Extended Range LTE is the brand name the company uses for deployments in the 600 MHz band.
The service expands network coverage and capacity, particularly in rural areas, while also providing the foundation for nationwide 5G in 2020 with 5G-ready equipment, according to T-Mobile.
The carrier expects its initial launch of 5G for customers in 2019 when smartphones become available, with nationwide coverage in 2020.