The availability of wired broadband boosts rural employment, according to new research from the University of Missouri. And wired broadband adoption boosts rural employment even more.
Researchers studied the period April-May 2020, shortly after COVID-19 was declared a national emergency and the ability to work from home became more important than ever.
The researchers looked at U.S. counties with populations below 20,000. These counties comprise 53% of total U.S. counties and about 9% of the total U.S. population and are largely rural, according to the study.
"Wired broadband" was defined as service supporting speeds of at least 25 Mbps downstream and 3 Mbps upstream using technologies such as cable, fiber or DSL.
Researchers found that a one-percentage point increase in wired broadband availability can lead to a .37-percentage point increase in the employment rate. Among those who subscribe to wired broadband, the correlation was even stronger. A one-percentage point increase in wired broadband adoption can lead to a .87-percentage point increase in employment.
The study also looked at whether "any internet adoption" impacted employment. The term was defined to include households with a paid subscription to any internet technology — fixed wireline or technologies such as cellular, satellite and fixed wireless.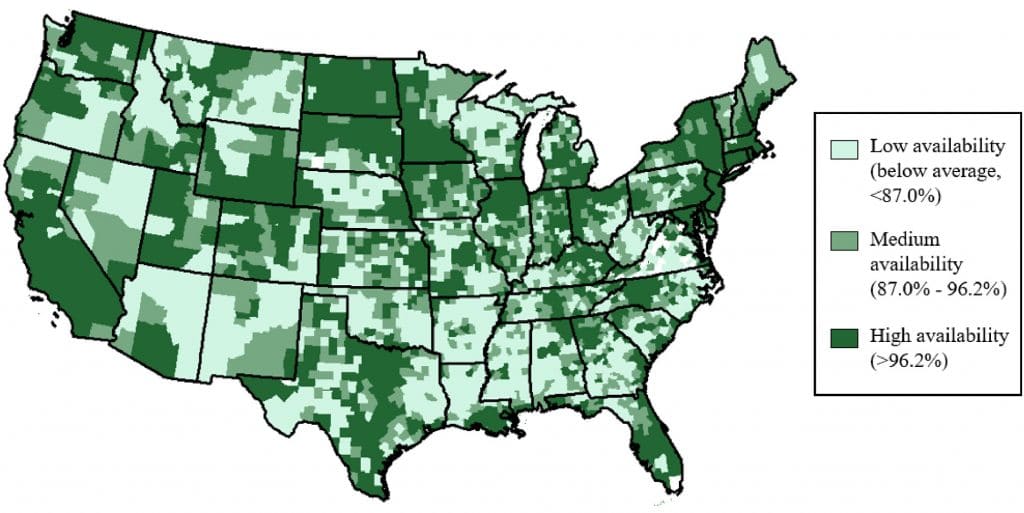 Results for "any internet" were inconclusive, the researchers said.
"In sum, our results suggest that low rates of fixed, wire-type broadband availability and adoption may still be barriers to realizing economic benefits of broadband in rural America," the report concludes.
The researchers are encouraged about the unprecedented level of funding that the government is making available for broadband – and not only for deployments but also for adoption programs.
Previous Research
The findings of the new study, titled "Broadband Adoption and Availability: Impacts on Rural Employment During COVID-19," are in line with some previous studies, including a 2019 study from the University of Tennessee at Chattanooga and Oklahoma State University that found that broadband availability and adoption reduce unemployment, especially in rural areas.
At least one other study has reached a different conclusion. A 2018 study from the American Action Forum found that broadband availability had no impact on employment. That study did not look at the impact of broadband adoption.
The full University of Missouri study can be found at this link.