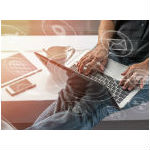 Any new COVID-19 relief package should include funding for broadband, said attorneys general from 31 states, three U.S. territories and the District of Columbia in a letter to House and Senate leadership late last week. The COVID-19 broadband funding letter urges legislators to increase funding for the Universal Service Fund and to make "flexible" funding available to state, territorial and local governments.
In the letter, the attorneys general note that the COVID-19 pandemic "triggered unprecedented disruptions to our educational and healthcare systems, as well as the broader economy and core social activities." In many cases, the AGs said, "individuals were able to compensate by moving online to learn, work and obtain healthcare services." But in other cases, "longstanding disparities in household access to high-speed internet and mobile devices prevented individuals from taking advantage of these opportunities."
Children from families that cannot afford broadband or do not have it available to them are forced to attempt to use parking lots where Wi-Fi is available, such as near a McDonald's, the letter recommending COVID-19 broadband funding notes: "In the past, we talked about this problem as a 'homework gap:' today, it has become a 'schooling gap.'"
The letter praises broadband providers for pledging to keep customers connected, waive late fees and open Wi-Fi hotspots to the public and also notes that some providers have gone further by temporarily offering free or discounted internet access to students, medical providers and low-income families. But while these voluntary commitments are "laudable," they are not "sustainable," the letter argues.
COVID-19 Broadband Funding
The letter stops short of recommending specific dollar amounts for the Universal Service Fund or for the funding for state and local governments, although it does note that state and local funding should be "adequate and flexible." Permitted uses should include "investing in broadband infrastructure, giving schools and libraries flexibility in how to use broadband connections, subsidizing broadband access and providing Wi-Fi-enabled devices directly to students and patients in need."
The COVID-19 broadband funding letter asks that such funding remain available for an "extended period of time" to allow for both immediate and long-term solutions. The letter also asks that Congress ensure that any such funding provided to state, territorial or local governments does not impact a state's ability to receive funding for broadband infrastructure from other federal or state broadband subsidy or grant programs.
The latter provision was likely included in response to the FCC's recent decision to make New York largely ineligible for broadband funding in the Rural Digital Opportunity Fund program because of a previous state broadband program.
Previous COVID-19 relief funding included money for telehealth programs and for the USDA ReConnect broadband deployment program but did not include USF funding. Other recently introduced legislation aims to expand the contribution base for Universal Service, which is currently funded as a percentage of long-distance voice revenues.
The states and territories whose attorneys general signed the letter about COVID-19 broadband funding include:
Colorado
Montana
Nebraska
North Carolina
Alaska
American Samoa
Connecticut
Delaware
District of Columbia
Florida
Guam
Hawaii
Idaho
Illinois
Iowa
Kansas
Maine
Maryland
Massachusetts
Michigan
Minnesota
Missouri
Nevada
New Jersey
New Mexico
New York
Oklahoma
Oregon
Pennsylvania
Puerto Rico
Rhode Island
South Dakota
Tennessee
Utah
Vermont
Virginia
Washington
West Virginia
Wisconsin