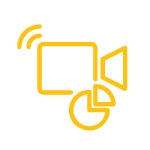 An interesting emerging use case for 5G comes from Sprint, which announced a video analytics service today that offers 5G-enabled video cameras. The offering, dubbed Curiosity Smart Video Analytics, is designed to provide automated alerts based on video analytics with the goal of securing people and property.
The news comes at a time when some people have questioned the need for 5G services, which have been launched in parts of major metro areas by Sprint and the other three major U.S. wireless carriers. While video analytics can be useful even when used with current-generation wireless services, the high bandwidth and low latency of 5G should enhance their capabilities.
Sprint Curiosity Smart Video Analytics
Sprint Curiosity Smart Video Analytics targets businesses, campuses and cities and uses artificial intelligence and other technology from Hitachi Vantara and Ericsson. A Sprint web page describes the offering as "video analytics-as-a-service."
Current capabilities include a people counter, a queue detector and others. Future capabilities will include intrusion/object detection, predictive crime analytics, a digital archive, and geospatial visualization, as well as various traffic and parking related capabilities. The latter include a parking space analyzer, a traffic analyzer, a vehicle counter and a direction controller.
According to Sprint's press release, 5G-enabled cameras will "lead into the future of smart video analytics" and will support "near real-time insights from video processed on the edge of the network." The reference to edge processing is notable, as we have heard quite a bit from AT&T and Verizon about their plans in that area but haven't heard as much from Sprint and T-Mobile.
It's easy to see how camera resolution could enhance the quality of a video analytics offering – and how a high-bandwidth 5G wireless connection could enhance the ability to transmit high-resolution video images. It's also easy to see how 5G's low latency, coupled with edge processing, could boost the performance of a video analytics offering by enabling near real-time operation.
While the new Sprint video analytics offering would seem to have strong potential, the main question in my mind is whether the company should be selling directly to end-user organizations or whether it would be better to offer the service through companies that already specialize in selling and installing video systems to businesses, municipalities and the like.
Telecom service providers have been involved in providing connectivity for security systems for years but haven't had a strong track record in selling complete systems to end-user organizations, where they find themselves competing with companies focused strictly on that market.
Perhaps we'll see Sprint and other carriers eventually selling this type of offering through those channels.