SpaceX Starlink download speeds decreased between the second quarter of 2021 and the second quarter of 2022 in every country assessed — including the U.S. — according to Ookla's Speedtest.
However, the satellite service's median download speed in North America was at least 60 Mbps, which Speedtest said is fast enough for at least one connected device to use all the features and services commonly available. Upload speeds slowed as well.
Starlink in Puerto Rico, where the company averaged 112.2 Mbps download speeds, was the fastest satellite provider in North America. The company's average download speed in the U.S. states that it serves was 62.5 Mbps. In comparison, fixed broadband providers in the United States averaged 150.1 Mbps download speeds.
On the upload side, fixed broadband upload speeds were faster than satellite speeds in all parts of North America except Mexico. Latency for every satellite provider was higher throughout compared to fixed broadband. Starlink's latency in U.S. states was 48 ms, the lowest median latency among satellite providers.
"Satellite connectivity is coming to mobile, with Starlink's new partnership with T-Mobile and new mobile devices becoming satellite enabled," wrote Ookla specialist Josh Fomon in the press release. "This will cause ripples across North America, which is a net positive for consumers who live in areas with low mobile and fixed broadband connectivity. Connecting with the world won't be a question of how anymore, it will be a question of how good your experience is. That's hopefully a win-win for consumers, especially as more providers vie for the fastest and best satellite experience — a true global space race.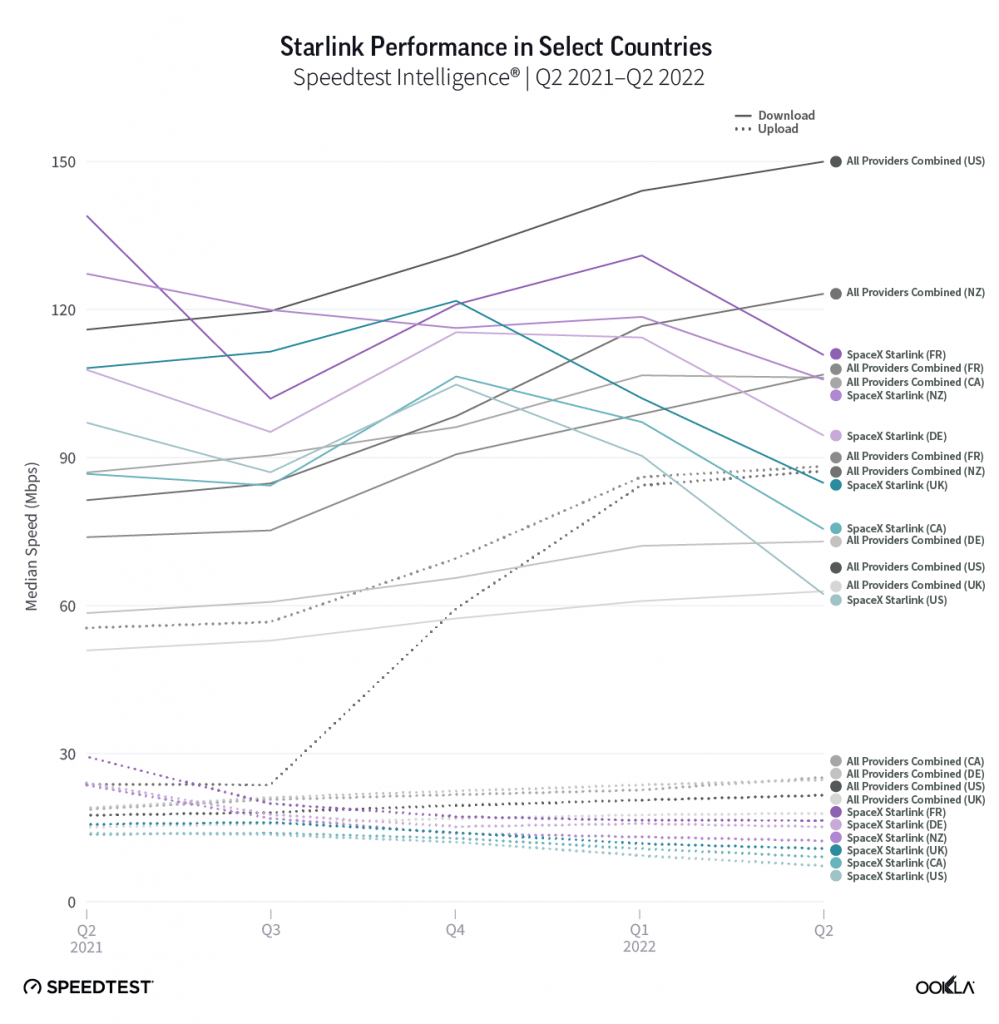 In June, Speedtest said that the average speed delivered by Starlink in the first quarter increased 38% compared to the first quarter of 2021. The speed in the earlier quarter was 65.7 Mbps compared to 90.5 Mbps in the first quarter of this year.
Starlink took a hit last month when the FCC rejected the company's long form RDOF application. The FCC said that Starlink had not demonstrated that it could meet its commitments. The action denied Starlink nearly $900 million in funding.