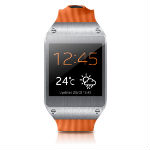 Allied Market Research is forecasting extraordinary growth for the global smartwatch market – 67.6 percent compound annual growth (CAGR) – from 2014-2020. That would bring smartwatch market revenue to $32.9 billion by the end of the decade, according to Allied's "Global Smartwatch Market – Size, Industry Analysis, Trends, Growth and Forecast" report.
With shipments exceeding 2 million units, so-called "Extension Smartwatches" – via which wearers can access mobile apps – accounted for about 80 percent of global smartwatch market revenue in 2013. Standalone, or single-function, smartwatches accounted for just 10 percent, Allied highlights in a press release.
Allied expects that situation will be reversed in coming years. The market research company expects standalone smartwatch sales will grow to match those of extension smartwatches by 2017.
Smartwatch Forecast
Smartwatches are now on offer in 40 countries. Android-based smartwatches – the most widely used smartwatch operating system – accounted for 60 percent of the market in 2013 and will outpace overall average market growth over the forecast period, Allied expects. Among smartwatch manufacturers, Samsung led the field in 2013, followed by Nike and Garmin.
Allied expects to see rapid growth in the number of companies operating in the global smartwatch market in coming years. Existing watch manufacturers will enter the market, while current market leaders from the CE industry, such as Apple, Google and Samsung, as well as others, continue to invest heavily in smartwatch R&D.
Geographically, smartwatch sales and revenues are highest in North America at present, accounting for nearly one-third of global market revenue in 2013. Allied expects Asia, including China, will become the biggest revenue driver in the smartwatch market in the near future, however. Besides becoming the largest driver of global smartwatch sales and revenues, China will become the hub of global smartwatch manufacturing, Allied Market Research predicts.
In its early stages of evolution, Allied expects rapid changes and shifts in smartwatch technology and market conditions over the course of the decade. With competition already fierce, Allied expects Samsung will move its Galaxy Gear smartwatches from Android to its own Tizen OS.
Design changes are in store as the smartwatch market evolves. Allied points out that Pebble recently redesigned and enhanced its smartwatch, launching the Pebble Street at a price of $250 as opposed to the original Pebble smartwatch's price of $150. "Apple also has planned to integrate its Health Kit application with the smartwatch for end users to monitor and keep track of their health and fitness," Allied adds.