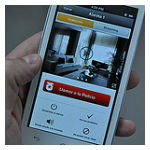 Mobile payment systems, connected wearable devices or smart home technology – which rapidly emerging digital telecom-driven tech do you think will have a major impact on your life? Half of respondents in the U.S. (51 percent) chose smart home technology, according to a seven-country survey of 1,000 adults covering 11 leading-edge technologies conducted by GfK.
Virtually the same percentage of U.S. respondents (50 percent) chose mobile payments. Four in 10 U.S. consumers (42 percent) chose connected wearables, GfK highlights in a press release.
Smart Home Survey
Among smart home technologies, GfK found that smart home ¨energy or lighting¨ generated the most appeal (55 percent) in the U.S. Just behind was ¨security and control,¨ which included alarm systems, smoke detectors and motion sensors, as well as security cameras, at 54 percent.
Ranking third among U.S. consumers was ¨entertainment and connectivity,¨ with 50 percent of U.S. respondents choosing this among the smart home technology categories offered in the survey. "Health" followed at 45 percent, with ¨smart appliances¨ rounding out the top five at 42 percent.
Turning to market challenges, high cost was cited as the most frequent barrier to consumer uptake, with 37 percent of U.S. respondents saying the high costs of smart home technologies was the biggest factor. Concerns about privacy ranked second at 26 percent. One-quarter (24 percent) saw no barriers at all.
"As the Internet of Things technology is embedded in an ever-increasing array of household product categories, Smart Home has the potential to be one of the biggest tech adoption revolutions we've seen in decades," Rob Barrish, GfK's SVP for Technology in North America, was quoted as saying.
"While 'security' stands out as one category with broad appeal, our research shows that consumers also have strong interest in a diversity of Smart Home product categories, from basics such as 'energy and lighting' to 'delighters'  such as 'entertainment.' With price standing out as the top barrier to adoption, marketers will need to focus on marketing that demonstrates not only that their product solves a problem, but also that it carries emotional appeal."
When it comes to preferred suppliers, more than half (53 percent) of U.S. respondents said they would prefer to buy smart home technology from a single vendor.
On the other hand, one in five U.S. respondents (21 percent) said they would prefer to be able to buy smart home technologies from multiple suppliers. Just over one quarter of U.S. respondents (26 percent) said they don't have a preference.