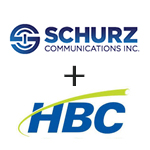 Schurz Communications' acquisition of Hiawatha Broadband Communications has closed. The Schurz Hiawatha Broadband deal opens the southeast Minnesota region to Schurz. The acquired company will maintain local management, continue to be based in Winona, MN and maintain the Hiawatha name.
Hiawatha offers gigabit broadband, telephone services and more than 300 video channels. Its data transport network serves more than 20 cities in southern Minnesota with a ringed architecture. It has wholesale, construction, business consulting and engineering divisions and operates the RS Fiber Cooperative, a "gigabit to the farm" project.
Schurz Hiawatha Broadband Deal
The management of the acquired company sounds as if its mission will continue. "Hiawatha is thrilled to join the Schurz family. We share the same vision, values and commitment to the community which was essential to us as we considered potential partners. The Schurz investment allows us to continue to deploy the latest technology for our customers and grow the HBC business," said Dan Pecarina, CEO of Hiawatha Broadband Communications, in a press release.
At least at this point, it seems that the plan is to stay the course. "HBC has been an integral part of Southeast Minnesota for 20 years, and that's not going to change," said Schurz Communications President and CEO Todd Schurz in the press release. "We plan to continue investing in the business and the employees because we know that our success is at the local level where the day-to-day business will be run. On behalf of Schurz, we want to welcome HBC to our family of companies and look forward to growing together."
The agreement was announced in early October of last year.
Last November, Espial said that Hiawatha had agreed to use its Elevate cloud-based software-as-a-service platform.
Hiawatha was not the only company that Schurz recently has bought. Last July, the company said that it had completed the acquisition of Vast Broadband's network facilities and customer relationships in Iowa and southeast South Dakota. Schurz operates as Long Lines Broadband in Sergeant Bluff, IA.