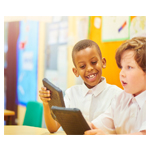 Nearly 100% of U.S. school districts have enough broadband connectivity to provide 100 kbps of bandwidth per student and 38% of districts can support 1 Mbps per student, according to the latest school broadband report from EducationSuperhighway, a non-profit broadband advocacy organization.
The 100 kbps-per-student level is the minimum speed required to provide digital learning and was the standard established by the FCC for the E-rate school broadband funding program in 2014. In 2018, the commission raised the standard to 1 Mbps per student, which according to the new report, is enough to support digital learning in every classroom, every day.
EducationSuperhighway has been issuing annual school broadband reports for several years and has seen steady progress. As of 2015, only 77% of school districts had 100 kbps per student and in 2013, that number was just 30%.
The new report measured fiber connectivity at the school, rather than school district level, and found that 99% of schools are fiber-connected, which suggests that it could be relatively easy to upgrade those schools that don't yet meet the 1 Mbps standard to that level.
School Broadband Report
EducationSuperhighway credits the E-rate program, along with state initiatives, for the gains in school broadband connectivity.
At the state level, the most effective strategy may be to establish statewide broadband networks, the research suggests. The report notes that in 17 states, the "dominant model" for school broadband connectivity is via these networks, some of which are dedicated to K-12 connectivity, while others use their statewide government broadband networks or research and education networks that also serve higher education institutions.
The researchers found that 1 Mbps-per-student connectivity was 14% higher in states with statewide broadband networks in comparison with states where connectivity is purchased at the school district level.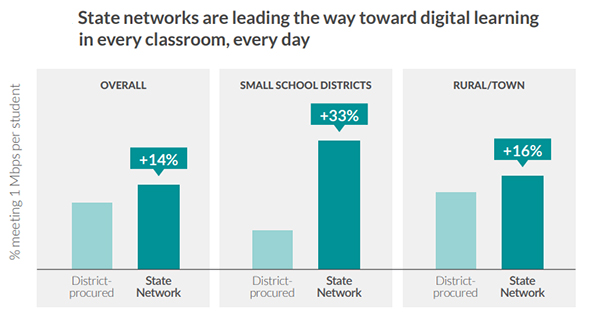 In states where schools do not use statewide broadband networks, "the path to 1 Mbps per student is predominantly about helping school districts take advantage of existing deals that give them dramatically more bandwidth for their budgets," the authors write.
The authors note, for example, that 3,833 school districts serving 16.3 million students have sufficient budget to reach the 1 Mbps-per-student standard by accessing the same pricing that service providers in their area are already giving other districts. The majority of these districts (78%) would not even have to change service providers.
Another successful state-level strategy is to match E-rate funding, the report found. Between 2015 and 2019, states with broadband initiatives increased internet access three times more in comparison with states without such initiatives.