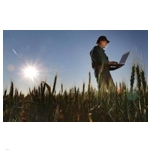 The Rural Utilities Service has awarded nearly $40 million in broadband loans to support new or improved broadband service.
The program, administered by the U.S. Department of Agriculture,  provides low-interest loans to bring broadband to rural areas where deployment costs are higher than in urban areas.
Funding went to three rural telephone companies for deployments in three states:
The Community Telephone Company in Texas will get a $26.4 million loan for a fiber-to-the-premises network and to upgrade six exchanges in the north central Texas plains
The Red River Rural Telephone Association will get an $8.5 million loan to deploy 145 miles of fiber in eight communities in North Dakota and two in Minnesota, thereby completing a FTTP network in Red River
The Griggs County Telephone Company will get a $4.7 million loan to deploy FTTP in two North Dakota counties.
In an announcement of the new loans issued Friday, RUS parent agency the United States Department of Agriculture also highlighted what it believes to be the largest FTTH deployment in the U.S. That network, constructed by the Dakota Central Communications Cooperative and Dickey Rural Networks, covers 10,000 square miles and reaches approximately 18,000 homes. It was made possible by a $2.2 million RUS grant to Daktel made in 2010.
RUS Broadband Loan Uncertainty
The RUS broadband loan announcements came at an uncertain time for small rural telcos. The FCC is in the process of transitioning today's voice-focused Universal Service fund into a Connect America Fund focused on broadband. But what the CAF program for small rural rate of return carriers will look like has not yet been determined. And with telcos uncertain whether they will be able to recoup investment made to deploy or upgrade broadband networks, many are holding off on making new network investments.
But as Friday's announcement illustrates, a few companies are willing to take the risk.