Rural broadband providers saw their average revenue per user (ARPU) and subscribership increase in 2021, according to the 2022 Telecommunications Benchmarking Study from Moss Adams, an accounting firm with a specialty in rural telecom.
Subscribership increased 5.2% between 2020 and 2021, following an increase of 8.2% in 2020. Although some industry observers continue to express concern that subscribership is reaching a saturation point, the increased importance of broadband during COVID-19 undoubtedly spurred more people to subscribe.
ARPU increased 6.8% in 2021 – from $62.50 to $66.72. This followed an increase of 7.9% in 2020. The ARPU increase was driven, in large part, by customers upgrading service to higher speed tiers, Moss Adams said.
The most popular service package in 2021 was symmetrical 100 Mbps service, which represented 10.3% of all broadband customer subscriptions.
Asymmetrical packages still dominate, however. Just 15.7% of customers subscribed to symmetrical service in 2021, even though symmetrical services represent 33.3% of rural broadband provider offerings.
Rural Broadband Provider Benchmarking Study
Broadband providers have had to step up investment to meet the increased service demand, particularly for higher-speed service.
Capital expenditures represented 24% of total revenue in 2021, following a 25% level in 2020.
As Moss Adams notes, "[t]his level of investment, as a percentage of revenue, hasn't been seen in the rural communications industry since before the Federal Communications Commissions 2011 USF/ICC Transformation Order, and points to the ongoing need for network investment to meet the FCC's ever-expanding requirements of voice and broadband providers."
The need for investment comes at a time when there is an uncertain future for an important source of funding for rural providers – the Universal Service Fund.
According to the Moss Adams report, providers realize this and "want to prepare for a future with less or no USF."
To gauge providers' progress on this front, Moss Adams looked at providers' EBITDA-less USF since 2016. Importantly, the median company studied reported positive EBITDA-less USF for the first time in 2021.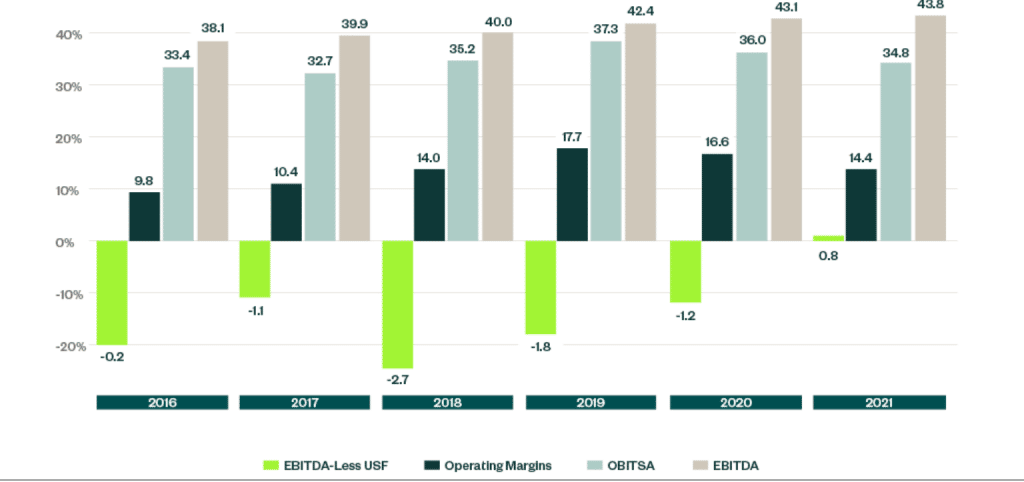 The Moss Adams 2022 Telecommunications Benchmarking Study was based on anonymized data from 115 rural broadband providers. Participants were comprised of 55 cooperatives and 60 privately held companies.
Moss Adams has been doing a rural broadband provider benchmarking study, previously known as the Telergee Benchmarking Study, for years. Our coverage of reports for previous years can be found at this link.