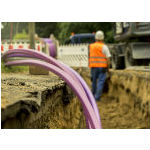 The COVID-19 pandemic and stay-at-home orders have awakened Americans to the digital divide and the lack of high-speed broadband in some rural areas. Legislators have a wide range of ideas about how to address this, as evidenced by at least half a dozen new bills that have been introduced in the House and Senate in recent weeks.
We put together a list to help readers keep track of it all. You'll find it by scrolling down in this post.
More Funding for Rural Broadband
The rural broadband bills fall into two main categories – those aimed at making more funding available for rural broadband and those aimed at getting rural broadband deployed faster.
The Moving Forward Act, introduced in the House and made public yesterday, would direct $1.5 trillion toward rebuilding U.S. infrastructure. According to a press release,  the bill includes $100 billion for "affordable high-speed broadband Internet access to all parts of the country." Some of the money would go toward promoting "competition for broadband internet infrastructure in unserved and underserved communities, prioritizing those with persistent poverty." In addition, some funding would go toward getting children connected to remote learning, closing broadband adoption and digital skills gaps and enhancing support for low-income households and the recently unemployed.
The Rural Connectivity Advancement Program (RCAP) Act, which we covered yesterday, would direct 10% of spectrum auction proceeds over a two-year period to the FCC to augment existing Universal Service Fund rural broadband funding programs.
Although not designed specifically to increase funding for rural broadband, the Universal Broadband Act, introduced in the House last month could ultimately make it easier to do so. As we explained in a previous post, the act would fund the USF program as a percentage of service providers' broadband and voice revenues. Currently, the program is funded as a percentage of voice revenues, and that approach is becoming increasingly impractical, particularly considering that USF funding is now directed primarily to broadband.
Speeding Broadband Deployments
The newest of the rural broadband bills that seek to speed up rural broadband deployment is the Senate Accelerating Broadband Connectivity (ABC) Act. Just made public today, the bill would incentivize winners in the upcoming Rural Digital Opportunity Fund auctions to begin construction no later than 180 days after their award is made, to begin offering service within one year after the award is authorized and to complete their deployments within three years. Funding for the incentives would come from funds allocated to but not awarded in the Phase 1 and Phase 2 auctions and would be proportional to the amount each winner was awarded, a press release explains.
The House also has a bill aimed at speeding up RDOF deployments. As Telecompetitor previously reported, the Rural Broadband Acceleration Act would award RDOF funding to certain providers that commit to deploying gigabit service prior to the auction.
Perhaps the House and Senate will work out a compromise bill combining elements of what each of those rural broadband bills proposes.
A third piece of legislation that seeks to speed up broadband deployments is the Nationwide Dig Once Act of 2020, which aims to speed deployment by making it easier to deploy broadband. As a press release explains, the bill would:
Establish a process for states to notify broadband providers of federally-funded highway construction that may present opportunities for coordinating installation of broadband infrastructure;
Require the installation of broadband conduit if a provider has not committed to deploy conduit as part of a federally-funded construction project; and
Establish a task force co-chaired by the U.S. Secretary of Transportation and the National Telecommunications and Information Administrator to consider and propose methods to fund the nationwide dig once policy.
Hope readers will find the following list of proposed rural broadband bills helpful.
Proposed Rural Broadband Bills

Bill Name
Branch
Sponsors
What It Would Do
Link
Accelerating Broadband Connectivity
Senate
Shelley Moore Capito (R-WV),
Roger Wicker (R-MS),
Marsha Blackburn (R-TN)
Incentivize winners in RDOF auction to deploy rural broadband faster
https://bit.ly/3erSMA1
Moving Forward Act
House
Numerous Democrats
Allocate $100 billion toward affordable universal broadband, including rural deployments
https://bit.ly/3dsGCph
Nationwide Dig Once Act of 2010
House
Anna G. Eshoo (D-CA) and David B. McKinley (R-WV)
Help streamline permitting and other deployment requirements
https://bit.ly/37W6ad8
Rural Broadband Acceleration Act
House
James Clyburn (D-SC) and Rep. Fred Upton (R-MI)
Award RDOF funding to certain gigabit providers before the auction
https://bit.ly/2Z0jIjL
Rural Connectivity Advancement Program Act
Senate
John Thune (R-SD)
Direct 10% of spectrum auction proceeds over two years to rural broadband
https://bit.ly/2Z6adPU
Universal Broadband Act
House
Collin Peterson (D-MN) and Don Young (R-AK)
Include broadband in USF contribution base
https://bit.ly/3drcRFf