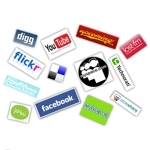 Social media has rapidly earned a place among the roster of tools companies use to engage customers and enhance affinity and loyalty to brands and their businesses. Telecom companies in the U.S. and Canada fall short when it comes to putting social media to good use, however, according to the latest eValue assessment from Engagement Labs.
The telecom industry across the U.S. and Canada as a whole scored "lowest of all industries indexed within the eValue tool, painting a picture of an industry with a great opportunity to drive increased affinity, loyalty, and custom interactions to differentiate themselves in a highly competitive marketplace," Engagement Labs states in a news release.
Top Ten Telecom Social Media Engagers
Engagement, impact and responsiveness are the three key metrics incorporated within the eValue analytics suite. Assessing U.S. telecom companies' use of social media according to eValue, Engagement Labs determined the top ten to be:
AT&T U-Verse
AT&T
T-Mobile
Sprint
Xfinity
Verizon Wireless
US Cellular
Cox Communications
Boost Mobile
Qualcomm
In Canada, the top ten are:
Shaw
TelusFR
Rogers
VideoTron
Wind Mobile
Virgin Mobile
Bell Canada
FIDO
Mobilcity
Telus
On average U.S. and Canadian telecoms companies registered eValue social media scores of 58 and 38, respectively. AT&T U-verse and Shaw were exceptions as both earned scores above 70.
According to Engagement Labs: "AT&T U-verse publishes highly relevant content on social channels, touching on the worlds of sports, entertainment and news. They focus on publishing timely, engaging content, and staying on top of trending information relevant to their community."
Added Engagement Labs' CMO Eli Singer: "Both Shaw and AT&T U-verse have social content strategies designed to resonate with their audiences. Focusing on trends works well for companies with broad and diverse audiences, while the use of creative and unique mascots that people connect with help the brand to stand out on social media sites."
Most telecom brands in the U.S. and Canada "are pursuing branded- and marketing-centric content that simply does not perform well in a community space without heavy media support," Engagement Labs posits as an explanation for the industry's comparatively poor eValue scores.
Scores on responsiveness, designed to measure reactivity and quality of social media conversations with customers, were low as well. "These low scores represent missed opportunities industry-wide to further engage directly with customers and build quality relationships," Engagement Labs comments.
"The data show that telecom companies have a significant opening to generate potent opportunities through social to further monetize their assets and drive higher ARPU," added CEO Bryan Segal. "Given the massive explosion of social through connected devices, these metrics demonstrate a clear opportunity that should not be ignored."