The average time spent on mobile devices in the U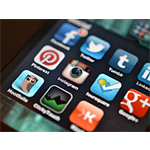 .S. has risen to 5 hours every day, up 20 percent from 4Q 2015, according to Flurry Analytics.
How that time is divided up among various uses continues to shift, Flurry Analytics notes in a blog post. Mobile apps reign supreme, accounting for a whopping 92 percent of total time spent. Time spent using browsers has declined to 8 percent of total time spent, down from 9% a year earlier, researchers said.
Initially touted as an "app killer," growth in use of "chat bots" fizzled, the blog post stated.
Entertainment apps, something Flurry has dubbed "communitainment," appear to be a strong driver of growth in time spent on mobile devices. Meanwhile, introduction and uptake of "frictionless" mobile app e-payment platforms, such as Apple Pay and Android Pay have helped fuel growth in mobile apps.
Time Spent on Mobile Devices
Three mobile social media apps predominate, according to Flurry. These include YouTube, Facebook and Snapchat.
Use of Snapchat now accounts for 2 percent of time spent using mobile devices, while daily time spent using Facebook mobile apps, including Instagram and Whatsapp, has held steady at 19 percent. Time spent watching YouTube content has also held steady at 3 percent.
Independent mobile entertainment apps lost share overall despite a 12 percent rise in absolute time spent. Collectively, they now account for 15 percent of total time spent on mobile devices.
Similarly, mobile game apps' share of time spent on mobile devices continues to wane – amounting to 11 percent of the total market – despite a constant flow of new investment in the category.
The Flurry blog post re-iterates that consumers have also been spending more time on mobile devices than on their TV sets since November 2014. A more recent trend is that premium mobile app providers are now monetizing one of the largest categories of mobile Internet video content by migrating user-generated content (UGC), as well as other categories, to social apps, such as "FYIS" – Facebook, YouTube, Instagram, Snapchat.
Content providers also are increasingly employing a new generation of A.I. (artificial intelligence) tools. These A.I.-driven solutions are now being used to recommend content to viewers and helping to create highly personalized end-user platforms, Flurry noted.
Closing comments in the blog post illustrate the importance of time spent using apps.
"As we finished this report, the market closed and gave Snapchat an approximate 34B USD valuation, that is approximately 9% the valuation of Facebook on the same day," the authors note.
"Snap Inc.'s share of time-spent on mobile is approximately 10% that of Facebook. This proves that the ultimate currency is not Gold, not the U.S. dollar, not the Euro, not bitcoin, nor anything we can invent. The ultimate currency is time and that time is spent on mobile."