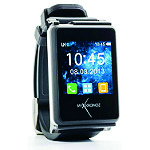 Smartwatch penetration will grow quickly over the next few years, according to a smartwatch forecast from NPD Group. As of June almost 9 percent of U.S. consumers more than 18 years old owned a smartwatch, NPD found. That's an increase of almost 1.5 percentage points compared to six months earlier.
NPD's "WEAR Report Industry Overview and Forecast" predicts that 60 percent ownership growth will occur between the second quarter of this year and the fourth quarter of 2018. By 2019 almost 15 percent of people over 18 years of age will have a device. Millennials are the biggest generational group. The increases will at least partly be driven by new use cases, such as controlling music, control of pictures and video and home automation. Fifteen to 21 percent of users already are using smartwatches to perform such tasks.
Smartwatch Penetration
New devices, new features and hardware and OS updates are driving the increase, researchers said.
"Rumors of the smartwatch's demise have been greatly exaggerated and we expect to see stronger growth in the next 18 months, compared to 2016," said Weston Henderek, NPD Group's Director of Connected Intelligence in a press release. "Many of the early growth projections for the smartwatch were, simply put, unrealistic. But in reality, a nine percent ownership level is a pretty healthy start for the market after just a couple of years. We expect the next round of product upgrades will lead to more first-time smartwatch purchases, as well as upgrades for those with existing devices."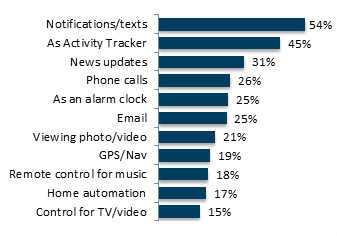 Leading smartphone applications will include notification/texts (54 percent), activity tracking (45 percent), news updates (31 percent), phone calls (26 percent), alarm clock and email reader (both 25 percent), GPS/navigation aid (19 percent), remote control for music (18 percent) and home automation aid (17 percent).
Research suggests the increase has not been consistent. During the second quarter of last year, for instance, only 3.5 million smartwatches shipped — a 32 percent year-over-year decline, according to the IDC Worldwide Quarterly Wearable Device Tracker.