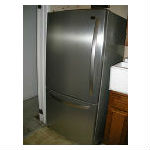 Though prominent in industry news headlines, the market for smart home appliances, along with that for smart home energy management services, is still at a nascent stage, with mass market pricing, distribution and consumer adoption still a couple of years away, according to ABI Research. The market research firm forecasts that smart home appliance shipments will exceed 24 million units by 2017.
The number of major appliance manufacturers launching new smart appliance offerings at recent trade shows is a sure sign that market momentum is building up, however, according to ABI's "Smart Appliances — Connected White Goods in the Home."
"LG Electronics, for example, along with fellow South Korean appliance manufacturer, Samsung Electronics, are two of the first companies to have already brought a comprehensive range of smart appliances to market," stated Craig Foster, ABI senior analyst, home automation and M2M in a press release. "Whirlpool, BSH, Miele, and Electrolux are among the other leading players to have unveiled one or more smart products."
Supportive of a growing market for smart home appliances is the number of households with utility-provided Home Energy Management Systems (HEMS), which ABI forecasts will increase from an estimated 2.5 million households in 2011 to 36 million in 2017, according to ABI's "Utility-Provided Home Energy Management Services."
"In the early stages of the HEMS market, an almost unanimous perception existed that utilities would lead the way in terms of the deployment of these solutions. However, utilities are now widely considered to have acted much slower than many anticipated, allowing many other routes to market to develop," Foster commented.
Image courtesy of flickr user mhaithaca