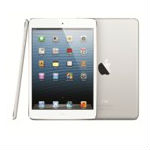 Recent market data indicate a decided shift on the part of tablet buyers towards smaller formats: while sales of 9.7″ tablets collapsed from 7.4 million to 1.3 million in January, sales of devices measuring between 7″ and 9″ rose from 12 million to 14 million, according to the latest data from DisplaySearch's Monthly TFT LCD Shipment Database.
Apple introduced the iPad mini in late 2012, further evidence of buyers' preference for smaller screen sizes. Smaller screen tablets also carry a lower price tag, adding to the attraction, Display Search's David Hsieh notes on the market research firm's Analyst Blog.
As of December, Apple expected to sell 40 million iPad minis and 60 million full-size iPads in 2013. As it turns out, the iPad mini's proven more popular than the original, full-sized iPad. Hence, indications are that Apple is now planning to sell 55 million, 7.9″ iPad minis and 33 million 9.7″ iPads this year, Hsieh points out.
Aiming to gain market share, competitors, including Samsung, Amazon, Google, ASUS and Acer all have their eyes on the 7-9″ market segment. Chinese tablet manufacturers are also concentrating on smaller screen tablets, he adds.
DisplaySearch predicts that total tablet PC panel sales will surge higher to reach 254 million units in 2013, up from 160 million in 2012. Smaller, 5-8.9″ panels will account for 136 million and 9-10″ tablet panels 118 million.
In its Quarterly Worldwide FPD Shipment and Forecast Report, DisplaySearch also highlights key issues that market participants will have to address even as the 7-9″ market segment grows rapidly:
How will 7.x" tablet PCs be influenced by 5-6" smart phone sales? As the smart phone moves to larger sizes such as 5-6", "phablets" – converged smart phone and tablet PC devices – could cannibalize the 7" tablet PC market.
Will the next resolution upgrade for 7.85" be UXGA (1920 × 1200, more than 250 ppi) or QXGA (2048 × 1536, more than 300 ppi)? Apple had been leading the trend towards high resolution, stimulating others to change their product plans.
Many panel makers are developing 7" 1920 × 1200 or even 8.9" 1920 × 1200 or 2048 × 1536 panels with more than 300 ppi. However, there will be challenges for a smooth panel supply. There are three technology choices for such high resolution in the 7-9" segment: a-Si, LTPS, and oxide. Every panel maker has a different strategy. What will be the mainstream?
Due to the popularity of the iPad mini's slim bezel, slim bezels with thin panel frames have become important in the tablet PC market. Some panel makers believe that LTPS, with the driver IC integrated (which is called GOA, or gate on array) is the only way to achieve a slim bezel. Others see LTPS as the only solution for QXGA resolution of 330 ppi with a slim bezel.
However, the yield rate and huge investment of LTPS remain question marks. Until now, 7-9" tablet PC purchases are mainly due to the comparatively lower price point. However, this is not a long-term solution for brands. With upgrades in resolution, function, and product design, can 7-9" tablet PCs move to a more premium positioning, targeting users willing to pay a premium for a high-end product even if it is smaller?