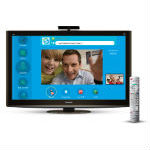 Growth of the nascent, so-called "living room" sub-market of the video calling market is set to expand from an estimated 1.5 million users today to some 16.4 million in 2015. Asia-Pacific's user base will lead the way and grow fastest by a large margin, according to an NPD In-Stat research.
NPD In-Stat analysts divide the video calling market into three sub-markets depending on the device being used to make the video call: PCs, Mobile, and Living Room (digital home) devices. Video calling originated on the PC, then migrated on to mobile devices with their proliferation. A third wave now sees video calling moving into the living room as the digitally networked home filled with Internet-connected devices and equipment becomes a reality for more and more people.
"While the mobile market is experiencing the strongest growth in usage, the PC and living room calling markets are also experiencing a surge of large player activity," commented Amy Cravens, NPD In-Stat senior analyst.
"The integration of video calling with social networks, such as Skype's integration with Facebook and Google+'s incorporation of Hangouts, is bringing a fresh perspective to video calling. Additionally, introducing this capability to the living room, enabling HDTV video chat, is an additional aspect of the market that is being endorsed by industry giant Microsoft as well as leading device OEMs including Panasonic, Samsung, and LG."
Key excerpts from the report, entitled, "Video Calling Across Screen Types: PC, Mobile, and Living Room," include:
The total number of video calling minutes of use will approach 550 billion minutes in 2015, a monumental increase from 141million minutes in 2010.
Skype and Apple FaceTime are leading the mobile video calling market and had similar usage rates among mobile and tablet callers. Other leading and emerging video calling solutions include, AOL, fring, Google, Microsoft Kinect, ooVoo, Raketu, Skype, and Tango.
The build out of 3G networks and launch of 4G will be important drivers in mobile video telephony.
Skype says that 75% of their online users have made a video call.
Active usage rates vary significantly across screen types.