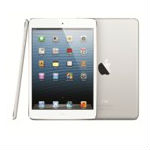 Apple iPad users' share of U.S. and Canadian tablet-driven Web traffic rose nearly 2 percentage points – from 82.4% to 84.3% – from May through June, according to the latest data from mobile advertising network platform provider Chitika. For iPad users, that's the highest percentage since the beginning of the year.
Users of Amazon Kindle Fires and Samsung's Galaxy line of tablets ranked second and third in terms of the percentage of U.S. and Canadian Web traffic various types of tablet devices account for. Chitika sampled "tens of millions of U.S. and Canadian tablet online ad impressions running through the Chitika Ad Network" in coming up with the statistics, according to a press release.
Apple iPad's usage share is now nearly 80% higher than its closest competitors, Chitika notes. Usage share of Barnes & Noble Nooks was only one of two tablet lines other than iPads to register a gain during the May-June period, surging 37% higher in June.
All other tablet groupings experienced declines. Second-ranked Amazon Kindle Fire's usage share dropped from 7.4% in April to 6.5% in May and 5.7% in June, according to Chitika's statistics. That for Samsung Galaxy tablets held steady at 4.7% in April and May before dropping to 4.2% in June.
Google Nexus tablets' Web usage share in Canada and the U.S. dropped to 1.2% from 1.6% from May to June, while that for Microsoft's Surface tablets gained 0.1%, to 0.5%.