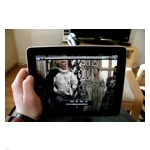 Increasing user comfort and content will raise user satisfaction with mobile TV viewing on media tablets, pushing monthly viewing times to 186 minutes per month by 2014, according to new research from Hampshire, UK-based Juniper Research.
The amount of time consumers spend watching TV via mobile tablets will grow fastest in North America, where tablet owners are already watching a significant amount of TV via mobile devices, according to Juniper's "Mobile TV: Applications, Devices and Opportunities 2012-2016," report. The size and design of tablets makes them ideal for watching Internet TV, Juniper notes.
Pay-TV service providers' ongoing efforts to integrate their content into cloud and telecom systems that can deliver the content to tablets and smartphones will also contribute to users' longer viewing times. Further fueling the trend are added program and provider features, such as time-shifting, plot synopsis, advanced search capabilities, that can be added to the delivery of mobile tablet TV programming.
"Consumers are already accustomed to timeshifting thanks to DVRs such as TiVo and Sky+; what mobile TV allows them to do is placeshift," report author Charlotte Miller commented. "This allows users to watch their pay-TV content anytime, anywhere and on any device – the TV experience is no longer confined to the home."
Other key findings in Junipers' report include:
The number of users of streamed mobile TV services on smartphones will increase by 2.8x between 2011 and 2016.
The majority of broadcast mobile TV users will be from the Far East & China.
Subscriptions will make up the vast majority of mobile TV revenues.
Image courtesy of flickr user Ben Dodson.