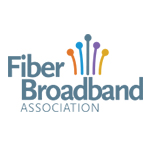 If spending on fiber-to-the-home (FTTH) deployment were to increase by $70 billion over the next 10 years, FTTH could be available to 90% of U.S. homes by 2029, according to a new FTTH deployment cost report from strategy consulting firm Cartesian and the Fiber Broadband Association, an FTTH advocacy organization.
If spending were increased by $52 billion, 80% of U.S. homes could have FTTH available to them by that date, the report said.
"Building all-fiber networks throughout America is not a pipe dream," said Lisa R. Youngers, president and CEO of the Fiber Broadband Association, in a press release about the new report, titled "All-Fiber Deployment Cost Study 2019."
She said it is now feasible to make FTTH available to all U.S. homes within the next decade. The report suggested several potential sources of the additional $7 billion required per year to achieve the 90% FTTH penetration rate by 2029. In an executive summary, the authors point to "a mixture of lowered deployment costs, driven by private and public efforts, and government support."
They note, for example, that the $4 billion annual high-cost Universal Service Fund could be directed toward FTTH builds. Currently some of that funding goes toward FTTH deployment but some of it goes toward deploying other technologies such as fixed wireless and fiber-to-the-node.
 FTTH Deployment Cost
Fiber deployment and take rates have increased steadily over the last decade. According to the report, just 3.7 million homes were connected by fiber in 2008 out of 12.2 million that had FTTH available to them. As of 2018, those numbers had climbed to 18.6 million and 39.6 million, respectively.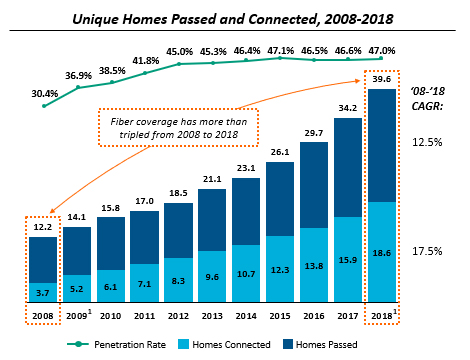 The U.S. is already on a pace to see FTTH available to 50% of homes by 2025, said Cartesian and the Fiber Broadband Association.
The report authors noted that rural areas are much more likely than urban areas to lack FTTH because deployment costs are higher in rural areas. To estimate the cost to bring FTTH to unserved areas, the authors estimated the number of unserved homes in each of five deployment cost tiers and the cost to serve each tier.
They estimated that at current investment levels, 69.6 million homes will not have FTTH available to them by 2025. Close to half of these homes (33.9 million) are in urban and suburban areas where the cost to pass each home with fiber would be approximately $668. To say that a home is "passed" by fiber means that fiber has been brought into a neighborhood and can be extended to individual homes in the neighborhood when a customer orders service.
The researchers did not estimate the cost to serve the 13.5 million U.S. homes that would be most expensive to serve. But the cost to pass each of the 5.1 million homes in the next most costly deployment tier would be $3,656 per home.
On average, the cost to pass all but the 10% most expensive of the 69.6 million homes that will lack FTTH by 2025 is about $1,250 per home.
FTTH Alternatives
It's not surprising to see the Fiber Broadband Association releasing a report like this, considering the attention and acceptance that other broadband technologies, particularly fixed wireless, have been receiving. For example, large amount of the funding awarded through the recent Connect America Fund CAF II auction went to fixed wireless providers.
The argument in favor of fixed wireless is that it is less costly to deploy than FTTH. It is far less future-proof, however, and traditionally has had a replacement cycle of just a few years. In comparison, FTTH has a longer life span and any upgrades that may be needed in the future should be relatively inexpensive once the initial infrastructure investment has been made.