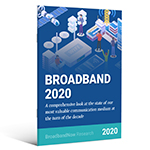 Some states have seen greater improvement in broadband availability over the last ten years than others, according to a new report about broadband deployment growth by state from BroadbandNow, an organization that maintains a detailed database about broadband availability.
Broadband Deployment Growth by State
Montana saw the greatest improvement, with broadband availability increasing from 11% to 86% between 2010 and 2020 – a 652% growth rate. Other states seeing big gains were Vermont (412%), Arkansas (117%) and West Virginia (109%), according to the report, titled "Broadband 2020" and based on data from public and private sources.
Of course, states that started with relatively low broadband availability had more room to grow. Not surprisingly, the aforementioned states were the only four that had broadband availability of 40% or less as of 2010.
Using this logic, though, we would expect the states that started with the highest 2010 availability rates to have seen the least growth, but instead, those states continued their strong momentum. Seven states, all in the densely populated eastern U.S. (including Connecticut, New Jersey, New York, Rhode Island, the District of Columbia, Massachusetts and Delaware), had broadband availability rates of 85% or greater as of 2010. Yet all but two of these states saw broadband availability increase 15% between 2010 and 2020, giving all of them 2020 availability rates of nearly 100%.
In contrast, some states that started at lower availability levels had growth rates below 15% over the 10-year period. States in this category were more heavily rural, including Oregon, Utah, and Nevada, suggesting that these states may have difficulty maintaining momentum as only the most difficult areas to reach remain unserved.
Oregon saw broadband availability increased from 82% to 92% — a 13% growth rate, while Utah saw a 13% increase from 83% to 94% and Nevada saw 12% growth, from 83% to 93%. (The one less rural state with a growth rate below 15% was Illinois, which saw broadband availability increase from 83% to 95% — a 14% growth rate.)
The key takeaway from the research seems to be that it's getting more difficult to make broadband deployment gains. For example, the report cites an estimate that it would cost $40 billion to bring broadband to 98% of the country but would take another $40 billion to bring broadband to the final 2%.
The authors argue, however, that the economic benefits of greater broadband availability would pay for itself in just a few years. According to the authors, more ubiquitous broadband could generate $60 billion to $80 billion for rural economies by, for example, supporting online commerce for small businesses and offering new employment opportunities.
Although it sounds like a big number, the authors back up their argument by pointing to a range of research on broadband's impact on rural economies.
Check out the report, including the state-by-state list of broadband deployment gains between 2010 and 2020 at this link.