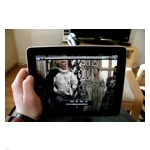 A consumer survey conducted by JZ Analytics for Broadcom, a chip manufacturer,  revealed an "increased appetite for seamless and pervasive communications."
More than 1/3 of respondents reported experiencing "connectivity withdrawal" when away from consumer electronics (CE) technology, according to JZ.
The results are based on a survey of  1,025 consumers to explore technology trends on the go, in the home and on the road.
Among JZ's survey findings:
Nearly four times as many respondents have six or more wireless devices today than they did just two years ago.
Two-thirds said they would stream video content to multiple wireless devices if their cable or satellite provider offered the service.
Almost 90% said they'd prefer to connect devices to systems wirelessly rather than using a cable.
On the road, navigation systems, driver safety features and online entertainment are top considerations when purchasing automobiles.
In the Home
Streaming entertainment across devices throughout the home is becoming a reality, thanks in part to technologies and standards such as Transcoding, DLNA, Wi-Fi, MoCA and Powerline Networking, Broadcom notes. In its survey, JZ Analytics found:
Consuming online video: Two-thirds of people surveyed say they watch more than two videos a day (68 percent), while a quarter say they watch at least five videos a day (24 percent).
Consuming overall digital content: 87 percent estimated that they consume more than 10 hours a week of digital content. More than half of all respondents (54 percent) consume more than 20 hours a week.
Multi-screen entertainment in the home: Almost two-thirds (62 percent) said they would stream content that can normally only be watched on their TV to wireless devices such as laptops, smartphones or tablet PCs throughout the home should their cable or satellite provider offer the service.
Connected televisions: Two-thirds (67 percent) are more likely to purchase a new HDTV that can easily connect directly to wireless devices such as smartphones, tablets or laptop PCs and the internet vs. one that cannot.
On the Go
With connected devices proliferating, consumers are looking for simple, seamless and pervasive connectivity, according to Broadcom's survey findings.
Configuring wireless connections: More than a quarter of those surveyed said that they've had to wirelessly configure and connect a device in the last month (28 percent). Less than half (46 percent) found the experience a pleasant one, so there's room for simpler connectivity technology.
Consuming content on the go: Of those who own a capable mobile device, one-third (32 percent) say they consume more than 10 hours of content a week while on the go, and more than half (51 percent) say they consume more than five hours a week.
On the Road
Consumers' desire for safety and entertainment features in vehicles is high, which is increasing the need for automakers to build more complex networks into the vehicles they produce. Ethernet technology is set to become the in-car connectivity standard, Broadcom says.
Survey respondents ranked the following in order of importance of features in vehicle purchasing decisions (percentage ranking as important / not important / unsure):
Driver safety features such as automated collision avoidance: 70%
Navigation system, GPS: 69%
Real-time access to traffic reports, other downloaded data: 52%
Easy attachment point for iPod or other MP3 player: 50%
Easy attachment for smartphone or tablet: 43%
Surround view park assist: 41%
Automated park assist system: 35%
Infotainment (Rear-seat entertainment, etc.): 33%
Internet access: 31%
Image courtesy of flickr user bendodson.