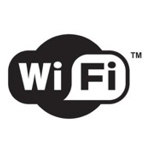 More than 7 million carrier-grade Wi-Fi access points have been deployed by telecom operators worldwide as of year-end 2012. Growing at a compound annual growth rate (CAGR) of 13.5%, that's going to grow and reach 15 million by 2018, according to a new research report from Berg Insight.
Making use of unlicensed spectrum in the deployment of Wi-Fi networks is proving increasingly attractive to mobile network operators, as the number of Wi-Fi enabled mobile devices continues to grow, according to Berg. "Virtually all new smartphones now have Wi-Fi connectivity as standard and a majority of smartphone owners already use Wi-Fi at home and at work," Berg notes in a press release.
Berg analysts forecast that the installed base of Wi-Fi-enabled handsets will grow from nearly 1.5 billion units as of year-end 2012 to more than 4 billion in 2018. Now convinced of Wi-Fi's capabilities and faced with fast growing demand for mobile data services, mobile network operators and equipment vendors are increasingly turning to the wireless Internet standard as a solution, Berg says.
"A number of strategies regarding Wi-Fi network deployments are possible," according to Berg analysts. "Many mobile operators that own wireline network assets have already offered free Wi-Fi services to PC users for several years and now start to include Wi-Fi access for smartphone subscribers as well. Operators that currently lack their own Wi-Fi infrastructure can acquire capacity from existing Wi-Fi network operators and aggregators.
Continued Berg Insight senior analyst Andre Malm, "The challenge for mobile operators is to integrate Wi-Fi with the mobile network in a way that enables control over the network selection and connection process."
Berg sees carriers making determined efforts to integrate Wi-Fi into their mobile networks. "Most Wi-Fi networks operate independent of mobile networks today," Berg notes. "The network selection and authentication process is initiated by the user directly, or by the handset based on preconfigured preferences and credentials.
"The seamless handover between base stations and roaming between networks in different countries that are central to the services provided by mobile networks is usually not found in Wi-Fi networks. However, the industry is now working on the next generation of seamless carrier Wi-Fi integration."
Such efforts include standardization and certification initiatives such as the Wi-Fi Alliance's Hotspot 2.0 and the Wireless Broadband Alliance Next Generation Hotspot (NGH) program, which focus on Wi-Fi network discovery and selection, seamless authentication and roaming.
"These standardization and certification efforts will enable mobile operators to control where, when and how data traffic is steered between cellular and Wi-Fi networks to make more efficient use of resources and improve the user experience for subscribers" Malm commented.