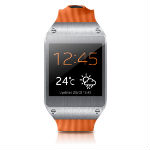 Demand for smartwatches picked up markedly in 2Q 2015, rising a record-high 457 percent annually, according to the latest market data report from Strategy Analytics. Unit volume totaled some 5.3 million, up from 1 million a year ago, according to Strategy Analytics' WDE (Wearables) market research service.
2Q'15 smartwatch shipment volumes totaled more than those for all of 2014, when global smartwatch market shipments totaled 4.6 million, Strategy Analytics highlights in a press release.  The Apple Watch dominated, accounting for 75 percent of global shipments with Strategy Analytics' estimating 4 million were shipped in 2Q.
Apple went from zero to being the dominant smart watch OEM over this past year. Apple Watch is now available in 16 countries, paving the way for further market development. Strategy Analytics says rivals, which really boils down to Samsung, will have to respond if they want to stake a claim and contend for market leadership.
Samsung shipped an estimated 400K smartwatches for an 8 percent market share in 2Q, according to the market research provider.
Together Apple and Samsung accounted for 80 percent of global shipments. Apple is far ahead of Samsung and other smartwatch manufacturers and vendors. It will need to launch new models and apps in dozens of countries if it wants to make its mark in the market, Strategy Analytics says.