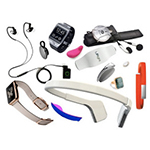 More than half (51%) of all Americans own "smart life devices," according to new smart life device ownership research from MRI, a division of GfK. MRI defines a smart life device as smart TVs, fitness trackers, smart speakers, smart watches, smart home hubs, smart thermostats and VR headsets.
The research also showed that more than four-in-five (83%) of "smart lifers" have smart TVs; while also embracing health trackers and smart speakers. However, only 6% of Americans have three or more of these devices. The researchers called those who own three or more devices "smart lifers" and delved more deeply into the habits of these cutting0-edge users.
Smart Life Device Ownership
Among their findings:
Six-in-10 (60%) smart lifers are married, and half (51%) have children.
Smart lifers are young, with a median age of 40, and are equally likely to be men or women.
Most smart lifers are professionals, with higher than average salaries – which, are helpful when paying for smart devices and services.
More than six-in-10 (62%) smart lifers have a wearable fitness tracker; 53% own a smart home hub; and 47% have purchased a smart watch.
Smart lifers report heavy use of magazines, but light consumption of TV. They also read airline magazines and fitness titles more than the average consumer. They are also heavy users of the Internet, but only medium to light readers of newspapers.
Smart lifers use online travel and deal sites – Airbnb, Fandango, and Groupon and similar ones – more than the average consumer.
Smart lifers tend to be active and social, and often act as tech advisors to their friends and family.
"The smart lifers are the most ripe target for all the newest technologies, but they are only the beginning," said Karen Ramspacher, MRI senior vice president, insights and innovation, in a prepared statement. "For companies to reach this target – and then expand beyond it – they need to understand who is currently buying smart tech, how it fits into their lives, and what else they own."
Image courtesy of flickr user Heidi Forbes Öste.