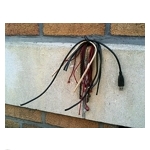 When it comes to home TV, Internet and phone services, African-Americans are some of the biggest spenders in the U.S. And while African-American households are the most likely to subscribe to digital add-ons like DVR, HD and premium channels, they're also more likely than their Caucasian counterparts to consider cutting the cord on these services, according to new market research from Horowitz Associates.
African-American audiences "are some of the most passionate viewers of television content," according to data from Horowitz Associates' "2014 FOCUS African America" study. Forty percent of survey respondents said they are "really into TV" compared to 33 percent of urban viewers overall. They also spend more time watching TV, with 39 percent watching six or more hours a day.
African-American Cord-Cutting Plans
African-Americans also tend to be at the leading edge when it comes to making use of new viewing technologies, Horowitz found. Thirty-six percent of African-American viewers said new technologies are enabling them to watch more TV than ever before. Furthermore, streaming content accounts for 23 percent of their TV viewing time. That compares to 18 percent for Caucasian viewers.
However, African-Americans that are multi-channel subscribers are twice as likely (20:10 percent) as Caucasians to say they're likely to cancel their TV service in the next six months. Research results suggest that greater reliance on new technologies, as opposed to a lack of interest in TV, may be a contributing factor, according to Horowitz.
"To date, cord-cutting has not had as big an impact on the pay TV business as many feared, but technology is a bigger disruptor among multicultural audiences, who tend to be early—and enthusiastic—adopters," commented Adriana Waterston, Horowitz's SVP, Marketing and Business Development.
African-Americans likely to cut the cord were found to be "really into TV" at the same rate as African-Americans overall, Horowitz found. They spend a higher percentage (28 percent) of their viewing time on alternative platforms, however.
"The variety of consumer choices today is a game-changer," Waterston stated. "As online on-demand viewing becomes increasingly normalized and expected, MVPDs will need to focus on proving the value proposition of pay-TV to retain their most valuable, tech-forward customers."