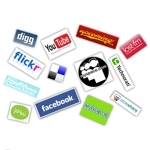 Some 72.2 million Americans accessed social networking sites or blogs via mobile devices in August, an annual 37% increase, according to comScore's MobiLens service. Nearly 40 million U.S. mobile users did so almost every day.
"Social media is one of the most popular and fastest growing mobile activities, reaching nearly one third of all U.S. mobile users," said Mark Donovan, comScore senior vice president for mobile. "This behavior is even more prevalent among smartphone owners with three in five accessing social media each month, highlighting the importance of apps and the enhanced functionality of smartphones to social media usage on mobile devices."
Most mobile users continue to access the Web via mobile browsers, but access via social networking apps is growing fast: the social networking app audience grew five times faster year-over-year. The mobile browser audience grew 24% to 42.3 million, while the social network app audience surged 126% to 38.5 year-over-year, according to comScore's research.
Looking at particular social network brands, Facebook, Twitter and LinkedIn's mobile audiences each grew by at least 50% in the year to August. Facebook's audience remains far larger than the others examined, and grew 50% year-over-year to reach more than 57.3 million. Twitter's grew 75% to total nearly 13.4 million, and LinkedIn's audience grew 69% to total nearly 5.5 million.
Regarding how mobile users are interacting with social networks, comScore found that 80.3% read posts by people they know personally, while 69.5% posted status updates while on their mobile device.
They were also likely to interact with brands on these sites. More than half (52.9%) read a post from an organization, brand or event while online via their mobile device. One in three received a coupon, offer or deal, and 1-in-4 clicked on an ad while on a social networking site.
Frequency of Use and Method of Access for Mobile Social Networking/Blog Audience

3 Month Avg. Ending Aug. 2011 vs. 3 Month Avg. Ending Aug. 2010

Total U.S. Mobile Subscribers Ages 13+ (Smartphone and Non-Smartphone)
Source: comScore MobiLens

Total Audience (000)
Aug-2010
Aug-2011
% Change
Accessed Social Networking Site or Blog Ever in Month
52,733
72,252
37%
Accessed Social Networking Site or Blog Almost Every Day
25,272
39,854
58%
Social networking Access Method:
Via Mobile Browser
34,192
42,251
24%
Via Application
17,002
38,453
126%