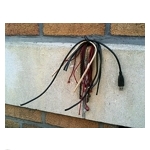 So-called "cord cutters" that have chosen to substitute OTT video offerings for their cable multichannel subscription packages are still a "thin slice" of the overall U.S. TV viewing population, but signs show that multichannel package penetration has peaked, and that OTT video substitution will pick up the slack.
Research from SNL Kagan suggests that while 2.5% of U.S. households opted to "cut the cord" on multichannel TV subscriptions as of year-end 2010, that OTT substitution will grow to 4%, or 4.5 million, by the end of this year, and 10%, or 12.1 million U.S. households, by 2015.
OTT video "cord cutting" has "remained a relatively small, though not inconsequential slice of the user base," SNL states, but OTT substitution "impacted the subscriber counts for multichannel service providers in 2010, and is expected to exert competitive pressure going forward."
The number of multichannel package subscribers fell to 84.9% of U.S. households in 2010 from nearly 86% as of year-end 2009. SNL Kagan researchers forecast slight increases in multichannel TV subscribers over the ensuing five years, but at rates that will fall short of new household formation, leading to "a long-term decline in penetration for multichannel services."
OTT substitution is "the primary agent" for the decline in multichannel package subscriptions for traditional cable, DBS and telco video, SNL Kagan says. Its estimates show that OTT substitution will account for nearly 10% of occupied homes in the U.S. over the five-year forecast period.