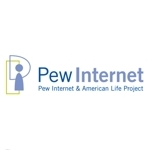 Internet penetration in the U.S. has reached saturation levels, at least for some groups, according to an analysis of 15 years of data collected by a Pew Research Center unit that has been tracking and studying Internet adoption and use in the U.S. since 2000.
The Internet saturation point has been reached for Americans – young Americans especially – with high levels of education and those who live in more affluent households, Pew highlights in "Americans' Internet Access: 2000-2015."
More than 8 in 10 of all American adults – 84 percent – now use the Internet, up from about half in 2000. Seventy percent of young U.S. adults used the Internet in 2000. That has increased steadily since 2000: Today 96 percent of young U.S. adults use the Internet. In contrast, it wasn't until 2012 that more than half of U.S. adults 65 and older said they do.
Internet penetration continues to lag among older U.S. adults, those with lower levels of education and those living in lower-income households although it has been rising steadily among these groups, particularly in recent years. That said, digital divides still exist in the U.S., Pew's Andrew Perrin and Maeve Duggan point out.
Internet Penetration
The two Pew researchers single out the following key trends regarding Internet access and use in the U.S. over the 15-year period:
Age differences: Older adults have lagged behind younger adults in their adoption, but now a clear majority (58%) of senior citizens uses the Internet.
Class differences: Those with college educations are more likely than those who do not have high school diplomas to use the internet. Similarly, those who live in households earning more than $75,000 are more likely to be Internet users than those living in households earning less than $30,000. Still, the class-related gaps have shrunk dramatically in 15 years as the most pronounced growth has come among those in lower-income households and those with lower levels of educational attainment.
Racial and ethnic differences: African-Americans and Hispanics have been somewhat less likely than whites or English-speaking Asian-Americans to be Internet users, but the gaps have narrowed. Today, 78% of blacks and 81% of Hispanics use the Internet, compared with 85% of whites and 97% of English-speaking Asian Americans.
Community differences: Those who live in rural areas are less likely than those in the suburbs and urban areas to use the Internet. Still, 78% of rural residents are online.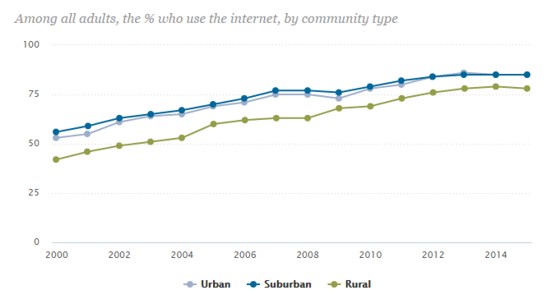 Perrin and Duggan also point out that growing use of smartphones over the course of the 15-year period has enabled more lower-income U.S. adults to access the Internet. A recent Pew Research report revealed that lower-income Americans are increasingly dependent on smartphones for Internet access.