More than half (54%) of all U.S. broadband households own at least one smart TV, according to smart TV ownership research from Parks Associates. Findings from the research data concludes that the smart TV is the primary platform in broadband homes for video consumption.
At a time when video content consumption is incresing dramatically, more than 6 million U.S. broadband households cut the cord on their traditional pay TV service between the first quarter of 2019 and the same period in 2020, the research firm also reported. Another major change for viewers was the way they consume content.
Driven largely by the COVID-19, U.S. broadband households are consuming on average more than 20 hours of video content weekly on the TV in 2020, an increase of nearly 40% from 2017.
"When looking specifically at online video content, the smart TV is the only measuring device seeing a year-over-year increase as the primary streaming video device," said Steve Nason, Parks Associates research director. "Nearly one-third of US broadband households cite a smart TV as their primary streaming video device, nearly double the rate of streaming media players and computers."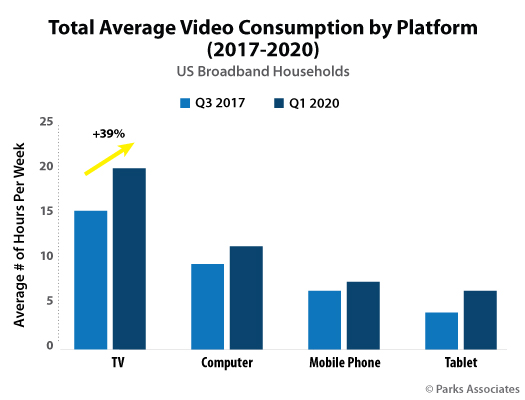 In a prepared statement about the smart TV ownership research, Nason added: "The smart TV continues to improve its perceived value across a variety of key features and technologies. "Smart TVs are steadily improving their scores in ease of navigation and ability to find content or discover new apps, supplanting other video devices in the house to become the main source for video content."
As Telecompetitor earlier reported, Parks previously noted that more than 70% of U.S. broadband households own at least one streaming device.