Half of the people who try a virtual reality (VR) headset say they intend to buy a VR headset. But just 15 percent actually do, according to new market research from Parks Associates.
Retailers and manufacturers would do well to expand public outreach and demos beyond industry events, especially during the holiday shopping season, the market research provider says.
Technologically, the focus for VR headsets and tech will shift from hardware to content and apps, Parks adds. "VR and AR (augmented reality) technologies have great potential but are in the very earliest stages of their market lifecycle. VR headsets have only recently entered the consumer market, and 360-degree and VR content production is just beginning," Parks' senior director of research Brett Sappington highlighted.
VR headsets can be found in roughly 3.4 million U.S. broadband households (about 3.5%), according to Parks. Gaming, healthcare, social networking, marketing and education rank as the top 5 use cases.
"Gaming is a strong use case for VR and AR technologies," commented Parks' research analyst said Hunter Sappington.  "PlayStation VR, launched by Sony in October, was a high-profile entry for VR, while the app Pokémon Go exposed lots of smartphone users, and news organizations, to AR. However, to find success beyond the Pokémon Go phenomenon, the industry needs to forge more content partnerships."
Those Who Intend to Buy a VR Headset
That said, more than 6 in 10 U.S. broadband households said they don't know much, or anything, about VR technology. "Content creators are still in the process of finding the best ways to use VR to tell stories and generate revenues. Currently, more than 60% of U.S. broadband households claim to know little or nothing about virtual reality," Brett Sappington continued.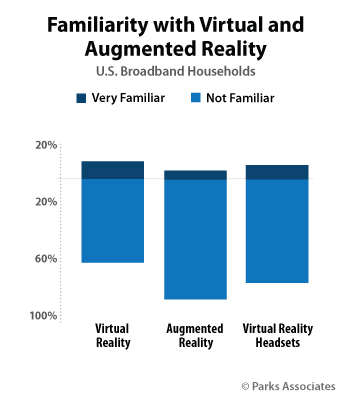 Consumer awareness of AR has been rising this year but it is still more of a  not fully developed opportunity than a commercial reality. According to Sappington, market participants need to create a full fledged Industry ecosystem. That includes platforms, software, content, distribution, and delivery systems.
2016 will be a pivotal year for VR headsets, according to Strategy Analytics. In an April research report the market research firm predicted worldwide revenues would total $895 million in 2016.
Furthermore, Strategy Analytics expects that more than three-quarters of 2016 VR headset revenues will result from sales of just three new premium offerings – from Oculus, Sony and HTC. Yet combined, those companies will account for only 13% of unit volume because the majority of the market will be smartphone-based.
Image courtesy of flickr user Nan Palmero.