Internet users around the world continue to engage in more online viewing via mobile devices. According to Ooyala's "Q1 2015 Global Video Index," 42 percent of all online viewing occurred via mobile devices.
Smartphones are the main growth driver. Online viewing via smartphones was four times than that for tablets in 1Q. A subsidiary of Australia's Telstra, Ooyala published its latest quarterly Global Video Index report June 24.
Ooyala's latest online video market data and analysis reveals an ongoing shift in advertising dollars from PCs to mobile devices. Furthermore, it shows that TV broadcasters, as opposed to publishers and brands, are at the forefront of the mobile online video viewing wave. More than half of all 1Q mobile online views came from TV broadcasters.
The growing impact personalized content recommendations viewing is having on online viewing and viewer engagement, as well as revenue opportunities, are other notable aspects of Ooyala's 1Q report.
Another highlight of the report in terms of emerging trends in programmatic trading between premium content providers and advertisers. Given mobile viewing continues to grow more rapidly than any other media channel, building profitable content strategies around mobile devices is an increasingly viable option for industry players, Ooyala says.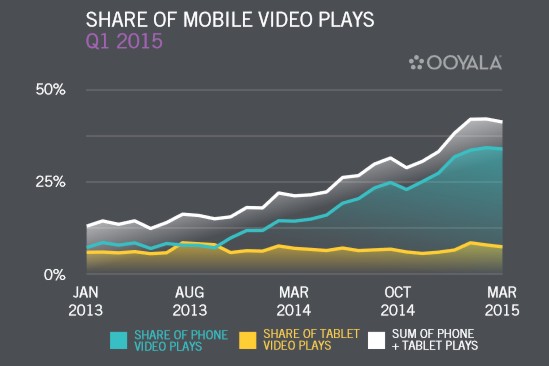 Online video plays on smartphones and tablets rose more than 24 percent on a quarterly basis, according to Ooyala. They doubled year-over-year and have increased 367 percent over the past two years. Ooyala expects mobile viewing will account for half of global online viewing this year.
TV broadcasters are showing themselves to be the most adept at cashing in on mobile video viewing revenue opportunities. Nearly 9 in 10 (89 percent) tablet users watch an ad in full once it has started. The same is true for 8 in 10 (79 percent) of smartphone viewers.
In addition, Ooyala points out that a higher percentage of TV broadcasters' content – 53 percent – plays on mobile devices. That compares to 31 percent for publishers and brands.
Key takeaways from Ooyala's Q1 2015 Global Video Index report include:
Online Viewing:
Content from broadcasters played more than 53% of the time on mobile devices compared to 47% on PCs, a major shift in the distribution of video play likely driven by younger viewers, Millennials in particular;
During the first quarter of 2015, mobile plays outpaced tablet plays by more than four to one, with 34% of all plays occurring on smartphones and only 8% on tablets.
Online Advertising:
89% of all ads started on tablets and PCs for broadcasters are completed, with 79% for mobile devices;
Publishers saw slightly lower completion rates: 73% for PC, 71% for mobile and 67% for tablets;
PCs continue to have the highest ad fill rates for publishers (77%) and broadcasters (64%).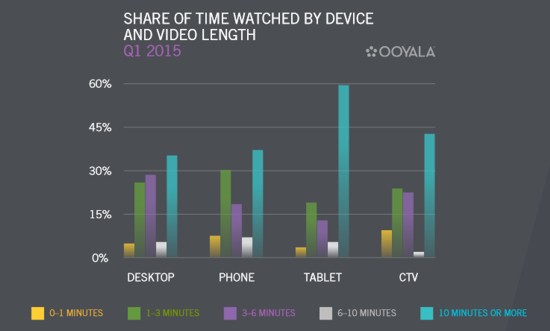 "Our data is indicative of the rapid pace of change in consumer viewing behavior, which creates new challenges and opportunities for content producers, service providers, and advertisers," Ooyala CEO Jay Fulcher commented.
"We're seeing a confluence of major trends that are reshaping audiences on a massive scale – in particular, ubiquitous TV-capable mobile devices, and a major influx of premium content streaming to, and in many cases produced for, over-the-top services. A mobile-first mentality with a keen eye on personalization has never been more important."