The NTIA released the state allocations in the $42.5 billion Broadband Equity Access and Deployment (BEAD) program today. The funding will go toward some of the costs of deploying broadband to unserved and underserved rural areas.
The U.S. "will be able to connect everyone," said President Biden in an address today. "These investments will help all Americans. We're not going to leave anyone behind."
Allocations are based, in large part, on the number of unserved locations in a state in comparison with the number of unserved locations nationwide. Program rules call for every state to receive at least $100 million and for every U.S. territory to receive at least $25 million.
As expected, Texas is slated to receive the most funding – over $3.3 billion. No other state will receive more than $2 billion.
Nineteen states are slated to receive over $1 billion. The top 10 allocations are for Alabama, California, Georgia, Louisiana, Michigan, Missouri, North Carolina, Texas, Virginia and Washington.
Other states that have been allocated over $1 billion include Alaska, Arkansas, Florida, Illinois, Kentucky, Mississippi, Pennsylvania, West Virginia and Wisconsin.
The states that will be getting the lowest allocations are those with smaller populations and/or where broadband already has been deployed to a high percentage of locations in the state. These states, all of which will receive less than $200 million, include Delaware, District of Columbia, Hawaii, Massachusetts, New Hampshire, North Dakota, and Rhode Island.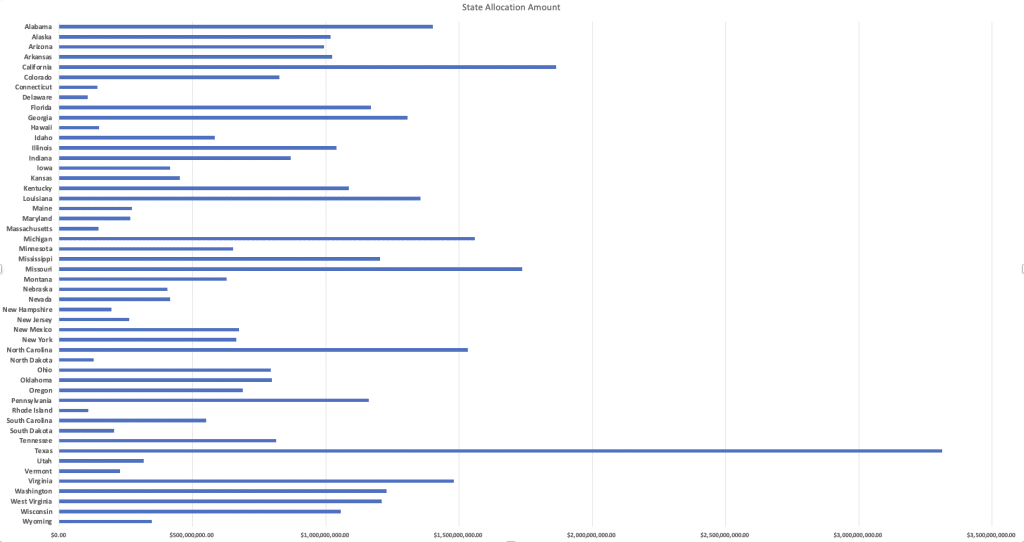 The exact allocations can be found in this press release.
NTIA relied on the FCC National Broadband Map to determine unserved areas.
States Have Big Responsibilities
States will be responsible for awarding BEAD funding to network operators under guidelines established by NTIA. Providers will have to cover at least 25% of project costs unless they obtain a waiver.
The next step is for the states to file initial proposals detailing how their programs will be structured and containing other information about the status of broadband in the state. After NTIA reviews and approves a state's plan, 20% of the state's BEAD allocation will be released.
NTIA will begin accepting initial proposals July 1, and proposals are due by December 27.
Unserved areas are defined as those lacking broadband at speeds of at least 25/3 Mbps. Underserved areas are those lacking broadband at speeds of at least 100/20 Mbps.
Funding recipients are required to deploy fiber broadband except in the highest cost areas, where hybrid fiber/coax, DSL or fixed wireless using licensed spectrum may be deployed.
Deployments must support speeds of at least 100/20 Mbps, although those operators deploying fiber are likely to offer much faster speeds of 1 Gbps symmetrical or higher.
The final allocations from NTIA released today are quite similar to estimates calculated recently by Cartesian for industry association ACA Connects and by telecom cost analyst Mike Conlow.
"This is a watershed moment for the millions of people across the country who lack access to a high-speed Internet connection who will soon have this necessary service to learn, work and play," said Assistant Secretary of Commerce for Communication and Information Alan Davidson in a press release. "States can now plan their grant programs with confidence and engage with their communities to ensure they spend this money where it is most needed."
Additional details about state BEAD allocations can be found on this NTIA webpage. President Biden officially announced the BEAD program in an address this morning. The webcast and archive should be available at this link.
Updated with a comment from President Biden