Small rural wireless carriers see less churn than larger companies experience, according to a new report from NTCA- The Rural Broadband Association.
More than 90% of NTCA members that offer wireless service (91%) said their annual churn is no more than 25%, including 41% that said their churn is no more than 10%. "These figures are well below the FCC's reported industry annual average of between 20% and 30%," the NTCA notes in its 2013 Wireless Survey Report.
"This speaks to the quality of service provided by these small carriers," the report authors added.
Nearly 150 (144)  NTCA members, 22% of its total membership, responded to the survey. Sixty percent of wireless carrier respondents offer some type of wireless service. Among those companies providing service, 82% offer fixed broadband, 49% offer mobile voice, and 43% and 29% respectively offer mobile broadband and fixed voice.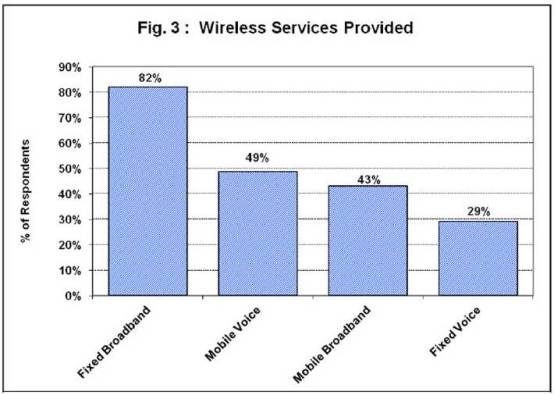 Rural wireless carriers continue to face a range of business issues, the NTCA survey showed. When asked their biggest concerns, the number one answer was competition from nationwide carriers, cited by 73% of respondents, followed by the ability to make necessary investments to offer the latest services (59%) and handset/equipment availability (51%). Other concerns were the ability to obtain spectrum at auction (47%), the ability to negotiate roaming agreements with national carriers (41%) and backhaul capacity/cost (37%). Last year's results showed similar rankings.
"Due to their size and scale of operations, small wireless carriers are at an extreme disadvantage when competing with larger carriers for potential customers," said NTCA Economist Rick Schadelbauer in a press release about this year's survey. "This disadvantage can be lessened, to some extent, by rules that mandate fairness in negotiating roaming agreements, or that give smaller entities a realistic opportunity to compete for and obtain spectrum at auction. It is critical that these and other important safeguards continue to allow small providers to do what they do best: provide high-quality service to customers in the most remote areas of our country."
Respondents in this year's survey reported greater difficulty in obtaining financing for wireless projects in comparison with what last year's respondents reported. Last year 74% of respondents said obtaining financing was somewhat difficult, very difficult or virtually impossible. This year 82% of respondents offered one of those answers, including 13% who said obtaining financing was "virtually impossible." Only 8% of respondents in last year's survey offered that answer.
Other notable findings from this year's report:
The average respondent serves just over 10,000 wireless customers with an average of 52 cell sites
The average customer's monthly wireless bill is between $50 and $60
The typical customer uses just over 500 minutes monthly
Just over a quarter (27%) of respondents acquired spectrum in the preceding 12-month period, 39% made arrangements to use previously acquired spectrum, 24% entered into negotiations to acquire spectrum and 24% relinquished spectrum.