Millennials' video calling habits are trending upward, with more than half of young adult Millennials now making video calls via their smartphones, according to the market research from The NPD Group. Fifty-two percent of Millennials aged 18-34 are making video calls on their smartphones, 10 percentage points above the level a year ago, NPD highlights in a press release.
The rise puts Millennials' video calling ahead of watching OTT and pay-TV videos among the fastest growing smartphone features, according to NPD Group's Connected Intelligence ¨Application and Convergence Report.¨ Listening to music online or via an app, posting or uploading videos and shopping also saw strong growth.

Millennials' Video Calling
"Video calling, posting and watching video are more common among Millennial smartphone users than among any other age group," noted John Buffone, Connected Intelligence executive director and industry analyst. "And as smartphones increase in size, Millennials are leading increases in activity, thus also leading the migration towards larger data plans."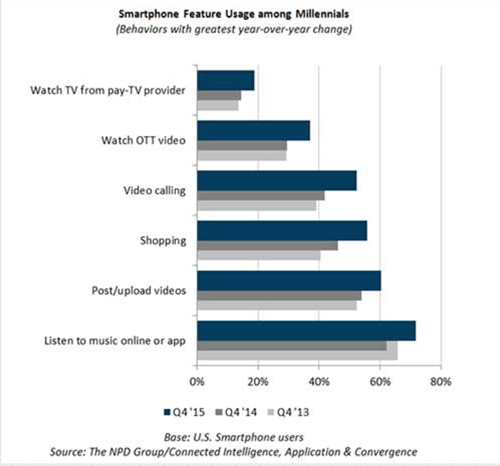 These rising trends coincide with decreasing personal computer use among Millennials and are having an impact beyond entertainment, NPD points out. Fewer Millennials reported using PCs for Web browsing; email; shopping; Facebook and Twitter use; music, photo or video posting; or navigation.
Data about Millennials and smartphones is one element of NPD Connected Intelligence, which tracks devices that use the Internet to deliver content via fixed and cellular networks to connected TVs, video game consoles, Blu-ray Disc players, streaming media players, tablets, smartphones, smartphones and PCs.