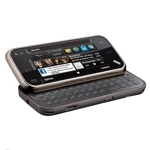 Nokia continues its efforts to pave new ground in the mobile device market by capitalizing on the advent of mobile broadband, personalized application services and the popularity of social networking.  At this year's Nokia World in Stuttgart, the Finnish mobile device industry leader introduced new product combinations that it touts "can change how people connect with each other and offer new and exciting ways to give everyone, everywhere the power to make the most of every moment."
Nokia has come out with a string of new mobile product introductions recently, including Nokia Money, the Nokia N900, Nokia Booklet 3G, Nokia 5230 and Nokia 5800 Navigation Edition.
Adding to this list at Nokia World, the company, in partnership with Facebook, announced "lifecasting with Ovi," a personalized, location-aware Internet service that enables users to publish their location and status directly to their Facebook accounts from the home screen of Nokia mobile devices.
The lifecasting with Ovi service will initially be available via the Nokia Beta Labs application warehouse for the new Nokia N97 mini, a smaller version of the original N97 mobile computer with a tilting 3.2-inch touch display, QWERTY keyboard and fully customizable homescreen.
Billed as the "world's smallest travel companion," the N97 mini comes with Ovi Maps, which in addition to global pedestrian navigation, includes premium content from Lonely Planet, Michelin and Wcities.  Expected to be available come October for EUR 450 (US$ 642), the mini notebook can be personalized further by purchasing mobile apps from the Ovi Store.
Besides Ovi lifecasting-N97 mini combo, Nokia announced the introduction of the "Comes With Music" service and new Nokia X6, a digital audio player that combines 32 gigabytes of disk space–up to 35 hours of music–with a 3.2-inch touch interface.  The X6's has a 16:9 aspect wide-screen that's optimized for photos, videos and browsing, according to the company.
The first Series 40 Ovi Store-enabled device, the X3 also comes with the new pocket-sized Nokia Mini Speaker MD-9, the Nokia Bluetooth Stereo Headset BH-505, built-in FM radio and a 3.2 megapixel camera.  Estimated retail is EUR 450 (~US$ 642) with initial shipments expected in 4Q this year.