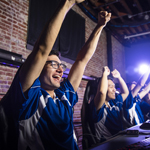 Alaskan service provider MTA says that it will be the esports partner for the Matanuska-Susitna Borough School District (MSBSD), the second-largest in Alaska.
MTA will provide strategic support to MSDSB staff and students during the preparation and training for and competition in esports. The company will provide free access to gaming equipment and support jerseys to the team. MTA also will take on two eSports interns from the school district.
The goal is to turn the school district into a major hub for esports. The press release says that eSports has grown significantly across the United States in recent years. More than 427 million viewers are expected to watch or participate by the end of the year. Several professional eSports leagues are already established, including the NBA2K League.
MSDBS, which is comprised of 46 schools and more than 19,000 students, has a prior relationship with MTA. Thirty-five high schools across the state are participating in esports during the 2018-2019 school year, its inaugural season.
"We're proud to be leading the charge in establishing esports in Alaska, not only as a fun, modern form of competition but also as a valuable educational tool," Michael Burke, MTA CEO, said in a press release. "As with MTA's network, our goal with esports is to minimize the impact of distance on Alaskans to each other and to the Lower 48, and this partnership's ability to align the cooperation and talent in esports with academic achievement serves as a promising step forward for the students of the Mat-Su Valley."
Service providers, large and small, are investing in eSports activities. Comcast is investing $50 million to build an eSports arena called Fusion Arena in Philadelphia. It's a 3,500 seat purpose-built eSports arena, which Comcast claims will be the largest in the Western hemisphere.
eSports likely will mature as cutting edge technology that allows viewers to enjoy it evolves. Last month, AT&T used 5G to support an esports event during DreamHack in Atlanta. The DreamHack Open CS:GO tournament was streamed live. Fans were able to watch from the perspective of fans, the on-air talent and via a professional cameraperson who roamed freely through the event.