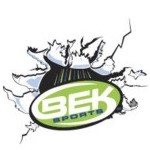 The smiling announcer tells us how the quarterback has performed in earlier contests this season, as a graphic summarizing the QB's stats appears on screen. The scene changes to a wide angle view of the field for the kick-off, then to a tighter view from another camera, following the running back as he catches the ball and runs with it.
This may sound like standard NFL or NCAA fare for a cable network like ESPN but it's far from it. The players are North Dakota high school students and the playing field belongs to one of the 120 schools in the state that has 3 to 6 athletic events per week.
Each week, six of these events are broadcast live by BEK Sports, with production values that rival those of major sports networks.  The events are made available to homes that get video service from any of 10 small North Dakota telcos. The telcos offer service in their incumbent territories and in Qwest territories into which they have extended service. Together the telcos and a large cable operator have made live high school sports available to about 90% of North Dakota residents.
According to a recent survey conducted by BEK Communications, which is one of the 10 telcos as well as the owner of BEK Sports, local high school sports was the number one reason customers selected the telco as their video provider. In areas where BEK Communications offers video service, 65% of homes passed are subscribers.
A Big Production
"We need a crew of nine to produce a game," said Derrick Bulawa, who is CEO of BEK Sports and BEK Communications. "We have four or five cameras, at least one announcer, as well as a director and people to handle audio, graphics and slow-motion replays."
Each high school is connected to the statewide high-speed Dakota Carrier Network and by plugging into that network; the production crew is able to broadcast the game live to customers who subscribe to participating telcos' video offerings.
BEK Sports has two of these production crews and keeps them busy throughout the school year producing football, basketball, volleyball, wrestling, baseball and hockey games. The company generates enough content to supply three cable channels—with one focusing on half of the state, another focusing on the other half, and the third showing historical games or other local content.
Several of the 10 telcos that offer BEK Sports programming in their channel lineup take all three channels. Each telco pays sponsorship fees for the games it wants to see produced. Each season about 75 or 80 schools see at least one game produced. Viewers are interested not only in watching games from schools in their own community but also from around the state.
"A lot of people went to different schools or have cousins or grandkids that play in another community than their own," Bulawa said.
The secret to BEK Sports' appeal is that it isn't treated as just another video channel, Bulawa said. "It has to be special and ingrained in the culture of the community operating it," he said.
Casting a Wider Net
In the off season, BEK Sports produces other local fare such as cooking shows, rural spotlights episodes, closer look episodes, contests and town events, drawing upon a wide range of sponsors. BEK Sports also earns some revenue by selling ads on its three channels and by selling thousands of DVDs of recorded programming per year.
When asked whether video is profitable for BEK, Bulawa initially chuckled, but then became more serious. "Deploying terrestrial television of any type is very capital intensive," he said. "If you go back to the 1970s or 1980s," he said, "almost no one was making money in the cable business but in the 1990s that started to change."
BEK Sports also could have some other potential revenue sources. When asked if he had considered consulting with other telcos or replicating the BEK model in other states, Bulawa said "yes and yes—given the right environment, we would consider either of those."