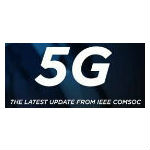 Looking out to 2020 and beyond, the International Telecommunications Union (ITU) announced the launch of a new 5G Focus Group, the aim of which is to identify the elements required for standardization of 5G mobile telecommunications that "will enable wireless communication to match the speed and reliability achieved by fiber-optic infrastructure."
In addition to significant enhancements to voice and video, the range of 5G mobile applications envisioned by ITU-T, ITU's Standardization Sector, will encompass "healthcare to industrial automation, virtual reality, automated driving, and robotic systems controlled with an imperceptible time lag. One-millisecond end-to-end latency is necessary for technical systems to replicate natural human interaction with our environment, a goal that experts say should be within reach of future networks," ITU elaborates in a news release.
ITU 5G Standardization
"5G will power a wide range of new user experiences, but the bottleneck remains the speed of the network," Wen Tong, head of 5G research and development at Huawei, was quoted as saying. "Everyone in the ICT ecosystem needs to work together. This is the most important condition for us to realize 5G."
The 5G standardization requirements to be developed by the new 5G focus group will form a fundamental aspect of ITU's International Mobile Telecommunications (IMT) for 2020 and beyond program. ITU launched the strategic program back in 2012, which "is coordinating the international standardization of IMT-2020 systems. ITU-T is expected to play a similar convening role for the technologies and architectures of wireline networks," ITU explains further.
"Air interfaces and radio access networks are progressing rapidly, but there is a need to devote more attention to the networking aspects of IMT-2020. Wireline communications will transform significantly in support of IMT-2020, and the coordination of ITU's standardization and radiocommunication arms will ensure that the wireline and wireless elements of future networks develop in unison," ITU Secretary-General Houlin Zhao pointed out.
Added Francois Rancy, director ITU Radiocommunications Bureau: "Following on from the successful development of IMT-2000 and IMT-Advanced, the standards for all of today's 3G and 4G mobile systems, the work to be carried out by ITU-T on the network aspects will be an important complement to the activities undertaken by ITU-R in developing the radio interface standards for IMT-2020."